Ukraine Says It Has Agreed to Ceasefire With Russia; Putin Denies Russian Involvement in War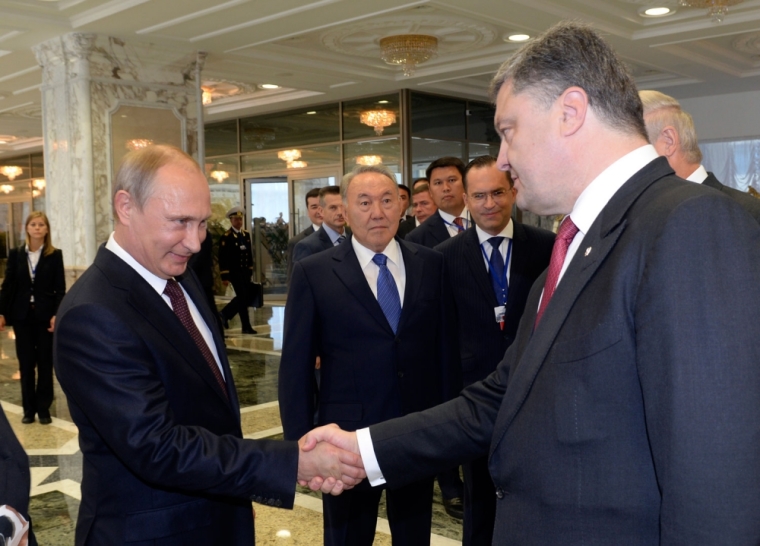 Ukrainian President Petro Poroshenko revealed on Wednesday that he has reached a ceasefire agreement with Russian President Vladimir Putin, though a spokesman for Putin noted that no such ceasefire is possible since Russia maintains that it is not involved in the war in Ukraine.
"The conversation resulted in an agreement on ceasefire regime in the Donbas (eastern Ukraine region). The parties reached mutual understanding on the steps that will facilitate the establishment of peace," a statement from the Ukraine government said.
But Putin spokesman Dmitry Peskov told CNN that the information may not be accurate.
"There is no confirmation of a ceasefire because Putin cannot agree (to) a ceasefire because he is not party to the conflict," Peskov said.
"What was agreed were steps that would lead to a ceasefire. The important thing is to bring an end to the bloodshed and to stop the firing. Everyone is trying to de-escalate the conflict."
Putin has said, however, that he is hoping for a peace deal to be reached between Ukraine and rebels by Friday, BBC News reported.
U.S. President Barack Obama noted during a visit to Estonia that he is aware of news surrounding the ceasefire deal, but expressed skepticism whether both sides will adhere to it.
Obama noted that previous ceasefire efforts have not worked "either because Russia has not supported it or pretended it is not controlling the separatists" in eastern Ukraine.
"Having said that, if in fact Russia is prepared to stop financing, arming, training and in many cases joining with Russian troops' activities in Ukraine, and is serious about a political settlement, that is something that we all hope for," Obama said.
Russia continues to deny its involvement in the hostilities in Ukraine between the government and pro-Russian rebel forces who have captured several cities. Ukraine's government, backed by the European Union and the United States, has said, however, that Russia is arming the rebels with tanks and is sending thousands of its civilians to fight for the separatists.
Valeriy Heletey, Ukraine's defense minister, said earlier this week that his country will "immediately mount defenses against Russia, which is trying not only to secure positions held by terrorists before but to advance on other territories of Ukraine."
"A great war arrived at our doorstep, the likes of which Europe has not seen since World War II," he added, warning of "tens of thousands of deaths."
Mykhailo Lysenko, the deputy commander of the Ukrainian Donbas battalion, said last week that fighting taking place southeast of Donetsk is a "full-scale invasion."
United Nations secretary general Ban Ki-moon has also spoken out on the crisis, but told western powers that there cannot be a military solution to Russia's actions in Ukraine, instead urging continued political dialogue with Putin.
"I know the European Union, the Americans and most of the western countries are discussing very seriously among themselves how to handle this matter," Ban told journalists on Tuesday.
"What is important at this time is that they should know there is no military solution in this. There should be a political dialogue for a political solution, that is the more sustainable way," he added.