UMC to Change Name of 'Book of Discipline' to 'Things United Methodists Don't Agree On'
UMC to Change Name of 'Book of Discipline' to 'Things United Methodists Don't Agree On'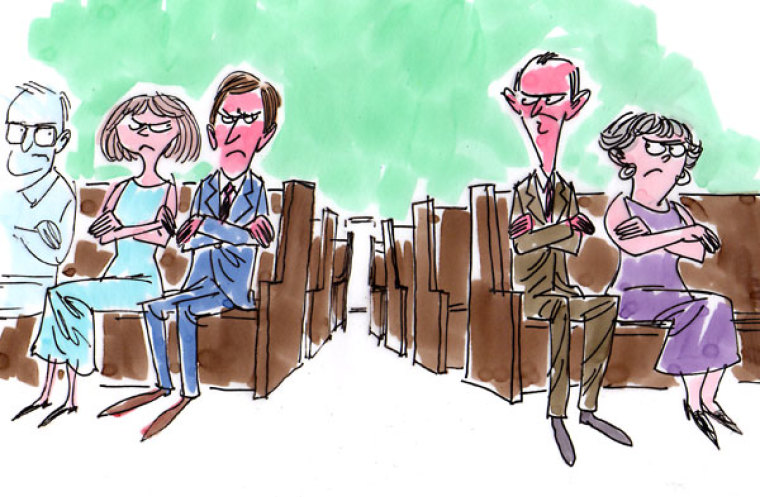 United Methodist Church leadership has recently endorsed a plan to change the name of its central rule book.
Bishops of the divided denomination plan to change the name of the Book of Discipline to Things United Methodists Don't Agree On.
Hoping to avoid a schism between liberal and conservative elements, the mood among UMC leadership at a press conference was that of relief.
"Why didn't we think of this before?" said one bishop, with a few of his peers nodding in approval.
"Now we shouldn't have to worry about any more icky, divisive debates every three years at General Conference, or the s-word, for that matter."
While only recently unveiled, the name change had its roots in a failed resolution at the 2012 UMC General Conference.
Sponsored by pastors Adam Hamilton and Mike Slaughter, the resolution had attempted to change the Book of Discipline's language, from denouncing homosexuality to replacing it with "agree to disagree" language.
"For me, the big epiphany came when critics of the Ham-Slaughter Resolution said that we, as Methodists, disagree about everything," observed one bishop.
"Then I got to thinking. … You know, we actually do! So might as well put that point on everything, just to cover all bases."
Another bishop optimistically noted that the new name will help resolve every single solitary hot-button issue brought before the UMC — before they become divisive.
"It's like Occam's Razor on steroids!" she proclaimed. "What is our position on homosexuality? United Methodists don't agree. What is our position on abortion? United Methodists don't agree. How do we feel about immigration? Gun control? The environment? United Methodists don't agree."
News of the rule book name change has received mixed reaction from the Untied — er — United Methodist community.
The United Methodist Judicial Council, the highest court of the denomination, has decided to go ahead and write all of its future decisions in advance.
Many activists on both sides of various contentious issues have become confused and disoriented, wondering what they will now do with their free time.
In some places, these passionate church reformers now aimlessly wander the streets or stare toward the heavens, stupefied by falling rain.
"This is an outrage!" complained one Evangelical activist, who mysteriously has not already left for a more like-minded church that would welcome his beliefs more thoroughly.
"Don't they understand that if we just say that everything is something we disagree on, we're saying we don't stand for anything?!"
When asked by one journalist about the possible theological slippery slope in saying all rules are simply things members don't agree on, UMC leadership brushed it off.
"Come on, now," replied one bishop. "We are the Church! We would never change anything because social pressures demanded it. I mean, who does that!?"
The name change for the Book of Discipline will now go before next year's General Conference, where United Methodists are expected to disagree on whether they will agree to disagree on the things they may agree on. Or something like that.
WARNING: THE ARTICLE ABOVE IS A WORK OF SATIRE. PLEASE SHARE RESPONSIBLY.