University lets people use bathrooms 'they deem they need to use,' opens 23 'all-gender' facilities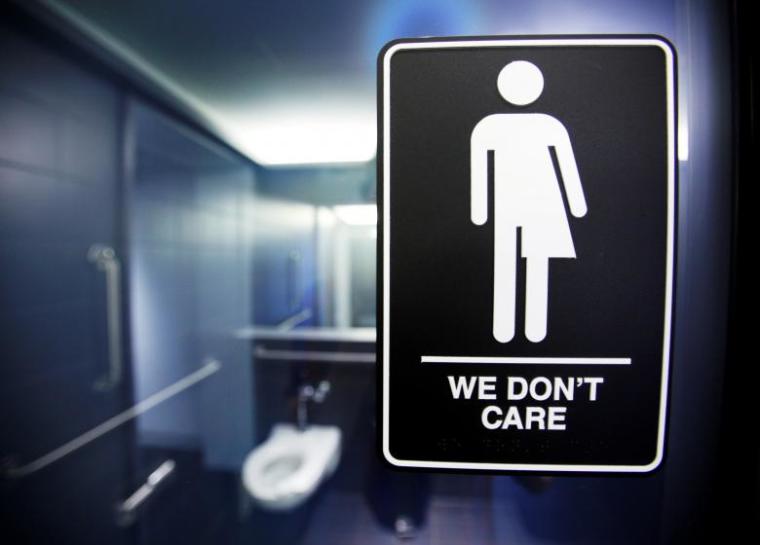 A public university in Ohio is letting people use whatever bathroom facility "they deem they need to use" in order to create a more "inclusive environment" and has also converted nearly two dozen restrooms into "all-gender" bathrooms.
Wright State University in Dayton has granted "universal access," allowing "individuals to use the restroom that corresponds to their sex, gender identity, and/or gender expression" in order to comply with the university's discrimination policy and its interpretation of Title IX law.
The university's Office of LGBTQA Affairs lays out protections for trans-identified people in a web page titled "Trans at Wright State."
On the page, the office states that the university strives to support and value all members of the campus community. To that end, it says that providing "safe, accessible, and convenient restroom facilities" is "one aspect of creating an inclusive environment."
The university also notes that some people experience "difficulty, inconvenience, and a lack of safety" when trying to use a gender-specific bathroom. It also states that transgender individuals can be "subject to harassment or violence when using men's or women's restrooms."
"We allow people to use the restroom facility they deem they need to use," the webpage explains.
According to an online resource from the pro-LGBT organization GLESN that was linked to by the university website, gender expression is defined as "the multiple ways (e.g., behaviors, dress) in which a person may choose to communicate gender to oneself and/or to others."
The Christian Post reached out to Wright State for clarification on its "universal access" policy. A response is pending.
The university website also explains that 23 restrooms in different buildings across the campus were converted to "all-gender" bathrooms as part of the university's "All-Gender Restroom Expansion Project." The bathrooms were all converted by Dec. 19.
"In some instances, a designated all-gender restroom may contain multiple stalls," the webpage reads. "For those who do not wish to use an all-gender single stall or all-gender multi-stall restroom, there will be gendered restrooms located in every building."
The campus-wide project was spearheaded by a joint committee of students, faculty and staff. The project was supported through a resolution unanimously approved by the Wright State Student Government Association.
"This project plan has been an opportunity for Wright State University to further our mission and vision of centering diversity, inclusion, and accessibility in the Wright State University community," Chief Diversity Officer Matthew L. Boaz wrote in a letter to the campus community. "By providing greater access to restroom facilities, we strive to create safer and more accessible spaces for people with children of a different gender, people with disabilities who need assistance in the restroom from someone of a different gender, and people who identify as transgender and nonbinary."
Not everyone in the Wright State community is happy with the all-gender bathrooms.
A Wright State dance team member took to Twitter to complain about the gender-neutral bathrooms.
"Can't even use the bathroom because all the bathrooms at wright state are gender neutral now and there's men and urinals in all the bathrooms," she wrote, adding the hashtag #ihavetopee.
The school responded by stating that not all bathrooms were all-gender and instructed the student to "go up or down a flight of stairs to the next restroom" if she is not comfortable in the all-gender bathroom.
"Well they are the main bathrooms on the floor everyone uses :)) thank you though," the student wrote in a response to the school.  "Everyone finds it awkward and inconvenient! I'll go find the next closest next time!"
While LGBT activists have pushed school districts and colleges across the nation to embrace policies that grant bathroom and locker room access on the basis of gender identity, social conservatives have voiced concern that such policies violate the privacy rights of others, especially women and girls.
Family Research Council released a report in 2017, listing 21 incidents of men assaulting or violating women's privacy in public bathrooms and warning that transgender-friendly policies do increase the risk of such crimes.
"It is important to note that the concern is not that transgendered individuals are more likely to be sexual predators, but rather that sexual predators could exploit such laws by posing as transgendered in order to gain access to women and girls," FRC stated.
The "Trans at Wright State" web page also recommends that university community members refer to each other by preferred names and pronouns. The web page details some examples of transgender pronouns that include "ze" and "hir."
"Not using a student's correct name and pronouns can make the student feel disrespected, can potentially out this student to their peers, and can create a classroom environment that could be very difficult for them to thrive in," the university resource reads.