University Reverses Ban on Conservative Student Who Said There Are Only 2 Genders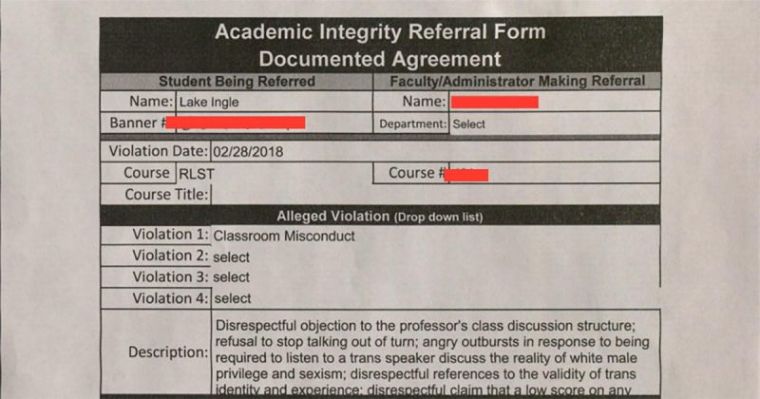 Indiana University of Pennsylvania has reversed course after barring a conservative student from a religious studies course who voiced his belief that there are only two genders.
IUP President Michael Driscoll announced on Monday that religious studies major Lake Ingle is now allowed to return to his class on "self, sin, and salvation" after he was barred from the course earlier this month even though he needs the class to graduate in May.
"Based on a review of governing policies, last week the student was informed that he is allowed to attend class," Driscoll said in a statement. "I hope he will be in attendance this week and beyond. To help ensure that a positive learning environment is maintained, I have asked a senior faculty member with significant experience in the First Amendment and a long career as a successful classroom teacher to join the class as a monitor and a mentor for all."
Ingle was banned from professor Alison Downie's class for challenging claims made in a TED Talk video shown in the class on Feb. 28 that featured transgender ex-pastor Paula Stone Williams.
After the video ended, Downie opened the class up for discussion on topics like "mansplaining," male privilege and sexism. The teacher initially only allowed female students to speak. Ingle claimed that after initial silence, he spoke and criticized topics like the gender pay gap and noted that many biologists believe there are only two genders.
The next day, Ingle was issued an "Academic Integrity Referral Form and Documented Agreement" that alleged he had a "disrespectful objection to the professor's class discussion structure." The form also accused Ingle of not only speaking out of turn but also having "angry outbursts in response to being required to listen to a trans speaker discuss the reality of white male privilege and sexism."
Ingle was also accused of issuing "disrespectful references to the validity of trans identity and experience and was also demanded to give an apology to the class on March 8.
On March 2, Ingle was told by Provost Timothy Moreland that he could no longer attend the class or speak with Downie until the charges against him have been adjudicated.
In a now-deleted Facebook post, Ingle denied the accusation that he was disrespectful and disruptive in class.
On March 9, the school's Academic Integrity Board met to review Ingle's case. A decision in Ingle's case was expected to come on Monday.
But without seeing the decision of the Academic Integrity Board, Driscoll explained that he decided to "indefinitely pause the formal university process without resolution."
"To foster behaviors leading to a constructive learning environment, I have asked Assistant to the President for Social Equity, Pablo Mendoza, to facilitate discussions among members of the class," Driscoll said in his statement. "If these steps do not yield positive results, I reserve the option to restart the university's formal processes."
Driscoll added that taking this course of action opens him up to charges of "not following agreed upon processes and policies" and could even subject him to lawsuits.
"In this instance, however, I believe that the exceptional importance of the fundamental issues therein represented require exceptional measures," Driscoll wrote. "In matters that involve the fundamental values of IUP such as open discussion, civil dialogue, and reasoned disagreement in the service of learning, I will take the risks rather than rest on the safe but 'foolish consistency that is the hobgoblin of little minds.'"
Ingle appreciates the president's actions.
"I'm happy I can get back to class and graduate on time," Ingle told Fox News. "I was surprised the president stepped in before the ruling but glad he made the right choice."
"When you see that kind of misuse of intellectual power, you want to be the person that comes back and does it responsibly and with morals," Ingle added. "Instead of being the purveyor of your ideology, you can be an educator."
Ingle's case was not the only situation facing IUP that Driscoll touched on. He also defended the free speech rights of conservative students at Turning Points USA to invite conservative speaker and Turning Points founder Charlie Kurk to speak on the campus.
Upset liberal students at the school demanded that Driscoll not allow Kirk to speak on the campus and labeled him and the group's leaders "Nazis."
"In a free society, people with opinions you don't like are allowed to exist, are allowed to speak, and can call you names. People are even allowed to write essays that use violent metaphors to describe their feelings about a challenging situation without fear of punishment," Driscoll wrote. "There are legal limits on free speech, but imposing them requires meeting a very high standard, such as an imminent and direct threat of harm to another. That said, I am disappointed that in the presence of a test of our devotion to the First Amendment and to the IUP Way, we fell short as a community."