Oral Roberts should be banned from NCAA competition: USA Today editor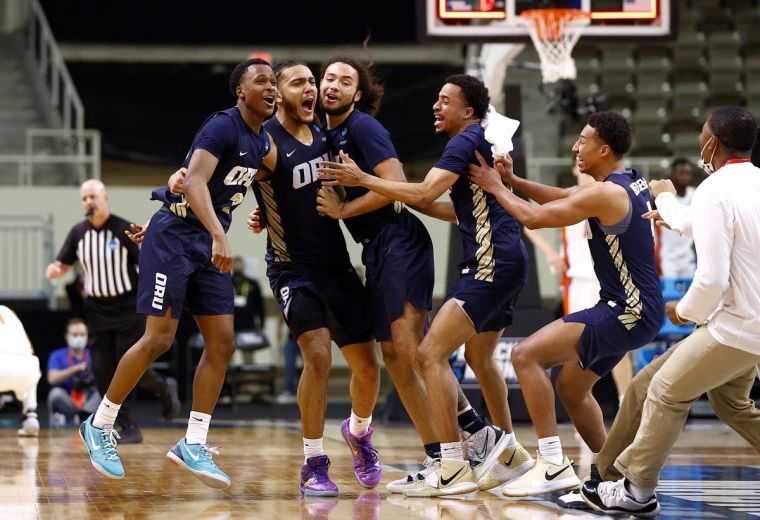 An editor employed by USA Today has suggested that Oral Roberts University, a Christian institution that has made a Cinderella run to the Sweet 16 of the NCAA Men's Basketball Tournament, should be banned from NCAA competition over its policies on sexuality. 
A private Christian school based in Oklahoma founded by Charismatic televangelist Oral Roberts, ORU has an honor code that prohibits students from engaging in homosexuality or same-sex marriage.
Hemal Jhaveri, editor and columnist at For The Win, which is part of USA Today, penned a column published Tuesday claiming that "the university's deeply bigoted anti-LGBTQ+ polices [sic] can't and shouldn't be ignored."
"Now, as Oral Roberts gains national attention, the focus shouldn't just be on their very good men's basketball team, but on their prejudiced teachings and moral regressiveness," wrote Jhaveri.
"The NCAA has always been more about paying lip service to ideals of equality and inclusion than action, but Oral Roberts inclusion in the men's tournament proves how little they actually care about those words, which are emblazoned on their basketball courts."
Jhaveri went on to argue that ORU's stance on LGBT issues was "nothing short of discriminatory and should expressly be condemned by the NCAA."  
"The fact is, any and all anti-LGBTQ+ language in any school's [policies] should ban them from NCAA competition," she argued.
"However accomplished its young student athletes are, the school is a hotbed of institutional transphobia, homophobia with regressive, sexist policies."
Jay Maxson of Newsbusters, a branch of the conservative watchdog group the Media Research Center, labeled Jhaveri a "would-be moralistic referee" who engaged in "anti-Christian hatred."
"USA Today is obviously out of touch with the First Amendment and the right of religious liberty," wrote Maxson.
Maxson argues that "[a]ttacking the values of Christian universities is now an annual rite and ritual of March Madness media coverage."
"During March Madness two years ago, Deadspin spewed the same kind of anti-Christian bigotry against Liberty University, the school they called the 'most hateable' in the Big Dance. Liberty lost in the first round of this year's tournament and was spared of another brutal media assault."
Last week, the ORU Golden Eagles delivered a major upset when they defeated the No. 2 seed Ohio State University Buckeyes in overtime by a final score of 75-72.
Then on Sunday, ORU secured another upset victory against the No. 7 seed Florida Gators, staging a comeback from a first-half deficit to win the game 81-78.
Coach Paul Mills, who recently graduated from Dallas Theological Seminary, stated at a press conference after the game that it was "a blessing to coach those guys in that locker room."
 "It's a blessing to win," said Mills. "The experience that these guys will have, I don't mean to come across as if we are content, but I am so happy for those players in that locker room."
With the win over the Gators, ORU has entered the Sweet 16 of the tournament for the first time since 1974. The team is scheduled to play the University of Arkansas Razorbacks on Saturday.