Usher Stepson Jet Ski Accident: Singer 'Emotionally Drained' From Learning Kyle is Brain Dead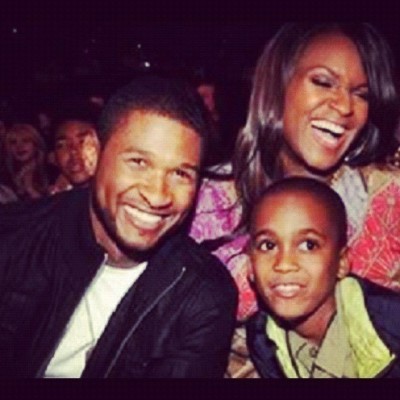 Usher is said to be "emotionally drained" over the tragedy that his 11-year-old stepson, Kyle Glover, is brain dead following a jet ski accident. Even in his poor state, Usher is offering his ex-wife Tameka Foster emotional support.
Usher, whose stepson has any brain activity since he was admitted to the hospital on Friday, is distraught over the accident. The 33-year-old singer "is emotionally drained from the accident.He feels incredibly awful, distraught…it's been a complete roller coaster of emotions," a source told HollywoodLife.com.
The source also reported bad news on Kyle Glover's condition: "I heard that [he] is actually in [rougher] shape then what has been reported, which was bad already."
TMZ reported that no decision has been made on whether to take him off life support.
Kyle is Usher's stepson with Foster. The couple divorced in 2009 after two years of marriage. Usher and Foster have two biological sons, Usher Raymond V, 4, and Naviyd, 3. Kyle is Foster's son from a previous relationship.
The former spouses were involved in a bitter custody battle after their divorce but are putting their differences aside in light of Kyle's accident.
"Tameka and Usher don't get along, but in this circumstance Usher is coming to her side," a source told Us Weekly. "Usher practically raised Kyle as his own. He's known him for seven years. It is so sad what happened."
According to police, Kyle was riding on an inner tube with a friend on Atlanta's Lake Lanier when they were struck by a man riding a jet ski. He was struck in the head by the jet ski and knocked immediately unconscious. He was then airlifted to a children's hospital in Atlanta where his mother has been at his bedside since she arrived.
Officials are still investigating the accident. Sgt. Mike Burgamy of the Department of Natural Resources reported that a boat was pulling Glover and his friend on an inner tube when they were struck by a jet ski operated by a 38-year-old man. The man was reportedly part of the same group on an outing on the lake.
As of Monday, no charges have been filed. Alcohol was not a factor, according to authorities.
Foster had requested prayers for her son via Facebook. "Kyle, You are strong.. You'll be saved I know it. I love you my baby. I need all #Prayers for my son! thanks you everybody!" she wrote on her Facebook page.
Singers and actors have poured their condolences and prayers for Kyle, Usher, and Foster on Twitter:
Jada Pinkett Smith: "Our prayers are yours Usher, Tameka and to all those who have put love into your son. Our prayers are with you as well. Be strong."
Tia Mowry: "My prayers go out to Usher and his family!"
Toni Braxton: "My heart and prayers go out to Tameka Raymond and Usher Raymond IV during this extremely difficult time."
Sherri Shepherd: "My heart hurts for Kyle Glover, Tameka Raymond's 11-year-old son. Praying for her, Usher and family. Mother love."
Wendy Williams: "My prayers go out desperately to Tameka and Usher Raymond. May God shine light on your entire family."
Russell Simmons: "My heartfelt prayers for Tameka and Usher. Can't even imagine . . ."
READ: USHER'S STEPSON'S MEDICAL CONDITION EXPLAINED
Donny Osmond: "My prayers go out to Usher Usher Raymond IV and his family. His stepson was declared brain dead after a jet ski accident. Please pray for them."
Niecy Nash: "If you pray, please pray."
Usher's Ex Wife Tameka Foster Son Declared Brain Dead After Jet Ski Accident
READ LATEST UPDATES ON USHER'S STEPSON BELOW: