Veteran Says God Kept Him From Drowning When Tractor Rolled Into Pond With Him Trapped Inside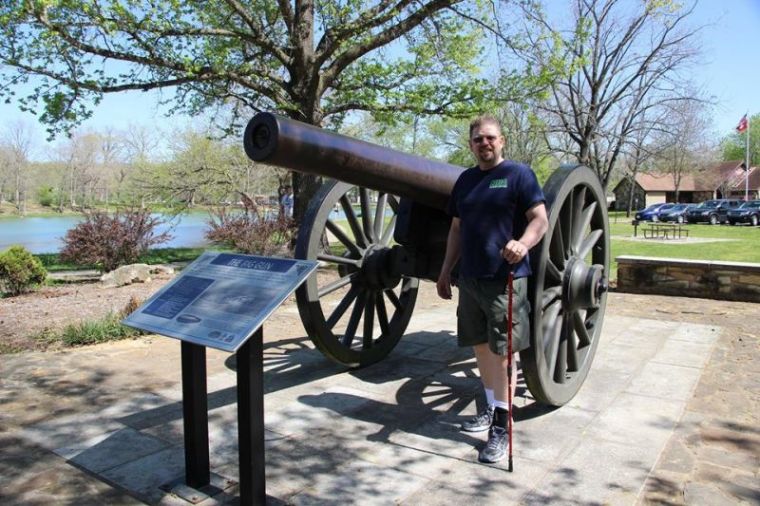 For more than three hours in February, as he remained trapped inside the cab of his overturned tractor that was submerged in a frigid pond on his property in Arkansas with no help in sight, Eldon Cooper was getting ready to die.
"You can imagine what I was thinking. I am going to sit here and asphyxiate on my own air," the 49-year-old Army veteran told AgDaily. "They are going to find me in here and this is going to be my tomb."
In that moment though, instead of wasting what he thought were the last moments of his life panicking over what he thought would have been his certain death, Cooper began to pray. He prayed for peace and he prayed for his family until he passed out.
"I needed that peace that passes all understanding, so I asked for it," Eldon said. "You know what; that peace came over me almost immediately. I stopped panicking, and I stopped trying to breathe so hard because I couldn't get a full breath. But I stopped panicking, and my mind cleared and I could think."
Shortly before he found himself face to face with death on Feb. 28, Cooper was getting ready to meet his new wife, Debra, at a 6:00 p.m. Bible study. At about 5 p.m. that day, he decided to do what he expected to be a quick check on the pond on his 25-acre property in light of recent rains.
"I hopped in the tractor, not grabbing my cell phone, a handgun, anything," Eldon said. "I mean, really, I was only going to be gone for a few minutes."
It was a routine activity for Cooper. As he drove to the pond he noticed that rain had washed out a 4-foot straight drop. Not wanting to damage his John Deere tractor, Cooper decided to return home but soon found himself in trouble.
"Well, for some reason my rear tire got too close to the edge, and the edge on the pond side gave way, dropping the rear of the tractor about 18 inches or so towards the pond. It stopped before going over the edge," Cooper said.
The tractor only had one door on the left side and Cooper was facing the deep side of the pond. There was an escape hatch on the back of the tractor but because he had never practiced how to use it, John didn't feel he had enough time to figure out how to use it in his emergency.
"I didn't have much time. I thought two things," Cooper said. "Should I open the door and jump out and try to swim around the tractor and get away from it before it would roll, if it was going to roll? I'm a great swimmer. That wouldn't have been any problem to swim it, but could I get out of the way before it rolled? And the other thing, should I just wait here for help."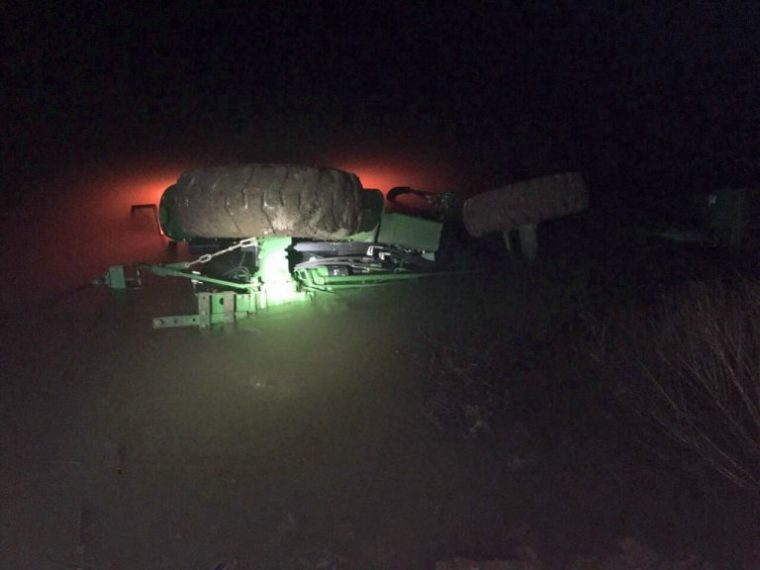 Only a few minutes after he started trying to think through his escape, however, the tractor began to roll towards the pond until it was submerged upside down. The cab began to fill quickly and Cooper kept his nose and mouth above the water in a space as small as a shoebox.
And thinking he would die, Cooper prayed.
"I prayed for my wife Debra, my kids, my family, that God would be with them and help them through whatever the outcome would be," he said. "I prayed for His will to be done. I prayed that somehow, some way, something good would come out of this situation and God would be glorified."
He later woke up safe in the hospital and now the Army veteran is telling everyone who will hear it because he believes if it wasn't for God, he would have died.
Cooper explained that his wife sensed something was wrong when he didn't show up for Bible study that night so as soon as she got to their home at 7:15 she went looking for him at the pond. She saw the tractor's flashers and called 911 right away.
When the first responders arrived on the scene they assumed Cooper was dead.
"They saw my protective structure on the back (of the tractor) to keep rocks from hitting the glass when mowing, and they thought that was the ROPS (roll-over protective structure). They really didn't know what to do," Eldon explained. "In their eyes, I was either in my seatbelt, or I was pinned under the tractor. Either way, I would be dead."
The ambulance left and responders decided it would be best to recover his remains the next day.
At this time his wife had called his family who were now on the scene and as everyone was about to pack up and leave, Cooper's brother, Charlie, called out to him.
"He said 'Eldon, are you there; are you alive?' and I responded somehow, with God's help," Eldon explained. "They described it as 'deep, gutteral sounds,' but I don't remember any of this."
Another ambulance returned to the scene and a firefighter was able to break the glass of the cab and they rescued Cooper. He was admitted to hospital in a coma with a body temperature of 83 degrees.
The next thing he remembers is waking up early in the morning the next day to see nurses trying to get an IV started.
"I was like, 'What are you all doing?'" Cooper said. "It startled them. I wasn't supposed to wake up. I was in coma."