Warriors Fans Killed in Dramatic Shootout Outside San Antonio Spurs NBA Playoffs Game (VIDEO)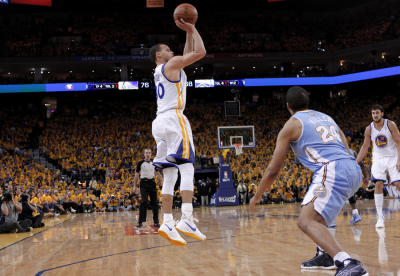 Two Warriors fans have been killed in a shooting on Thursday following the team's NBA Playoffs game.
The incident is reported to have happened on a crowded freeway, and police have described that there was a shootout between two cars.
The two men who were killed were in a Porsche; the driver was shot dead in the car, and the passenger was also killed and was found outside the vehicle on Interstate 880 in Oakland.
It was not exactly clear how the passenger died, and conflicting reports emerged in the immediate aftermath of the incident. The San Francisco Chronicle has described that the Porsche hit the median and flung the passenger out of the car to his death. However, NBC Bay Area has claimed that the passenger stumbled out of the car after the driver was shot, and was then hit by another car passing by.
The two victims were wearing Warriors shirts, and playoff tickets to the game earlier on in the evening were found in the car. The Warriors were eliminated by the San Antonio Spurs in the game that night.
Eye witnesses have claimed that a black colored SUV was also involved in the incident, however, police have not yet found the suspect vehicle or those responsible for the killings.
Surveillance footage is currently being retrieved and reviewed by authorities, and police are asking that anyone with information about the shooting come forward and contact police.
The freeway was closed down for hours after the incident, as police locked down the scene and collected evidence. In particular, authorities searched for shell casings from the shooting incident.
The road was only reopened at about 2.30 a.m. local time on Friday, which was about four hours after the playoffs game ended.
Video: 2 Warriors Fans Shot, Killed On I-880