What Would Jesus Say About This Trump T-Shirt?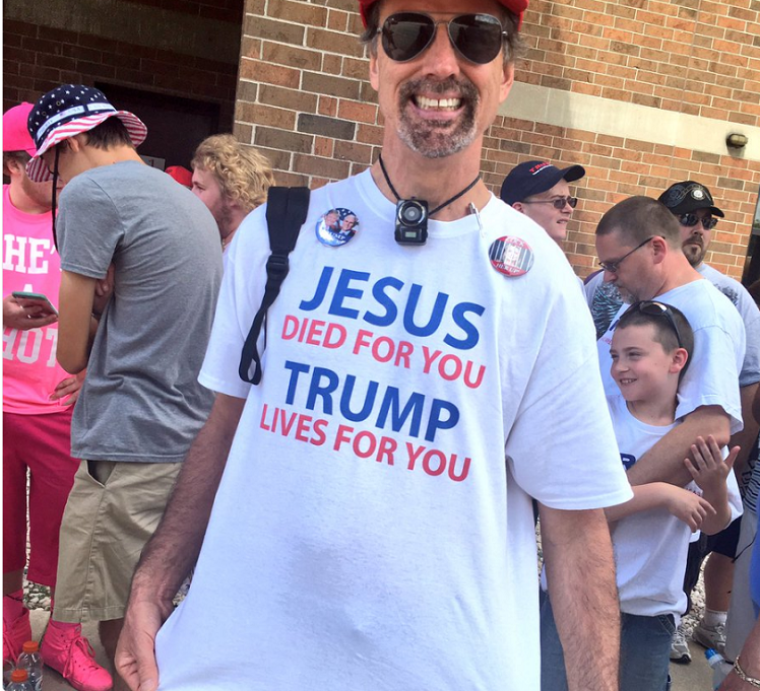 One American man's support for Republican presidential nominee Donald J. Trump might be getting him the um, honor, of having the worst political T-shirt in history.
But don't take my word for it, just look at the ideological fashion and judge for yourself. At a recent Trump rally in Green Bay, Wisconsin, one man proudly showed off his devotion for The Donald.
The shirt read "Jesus died for you … Trump lives for you."
Michael Brown, Christian author and radio host, put it well when he posted a photo of the Trump supporter on Twitter.
"This is probably the worst political T-shirt I've seen. I'm sure Jesus doesn't like it; I hope Trump doesn't either!" Brown tweeted on Friday.
MTV News senior political correspondent Ana Marie Cox also uploaded a photo of the man on her Instagram account.
"Coming to racks in your local thrift store in about 3 months," replied one person, while another opined, "I am agnostic and speechless."
Kind of makes you wonder what score the Trump supporter got on the not-so-challenging online quiz "Trump or Jesus."