White Teen Spray Paints N-Word With Expletive on Pastor's Truck, Says He Thought It Was Funny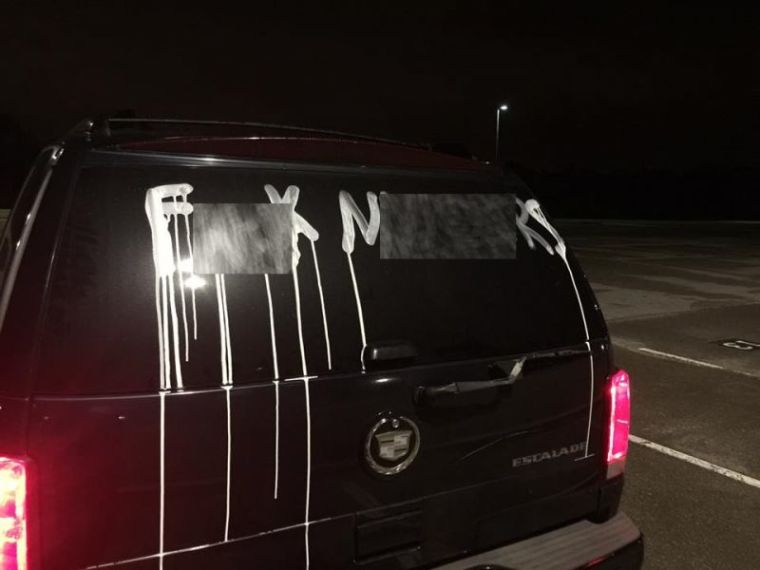 A Tennessee pastor whose truck was spray painted with the N-word and an expletive as racial unrest erupted in Charlottesville, Virginia, is now urging his community to use the incident as a teaching moment after police arrested two juveniles for the damage, including a 13-year-old boy who thought it would be funny.
"Y'all believe it's real yet?!?! This is my truck at Collierville High School in Collierville, TN!
#StayWoke," Dr. Jason Mitchell, the pastor at Perfecting Love Community Church, revealed in a Facebook post along with a photo of his vandalized truck on Aug. 13.
The now viral post which has been shared more than 11,000 times on Facebook came just hours after James Alex Fields Jr., 20, an alleged Nazi sympathizer, reportedly plowed a car into a crowd of activists in Charlottesville, killing one person and injuring 19.
Days later, Collierville police announced they had charged two juveniles with vandalism and civil rights intimidation. A parent of one of the juveniles, a 13-year-old boy, then contacted FOX13 a day after the arrest was made to publicly apologize.
"It was just something stupid that we thought would be funny, but it didn't turn out to be funny at all," the boy told Fox13. "It wasn't supposed to be racist."
"I regret it so much. I want to say I am sorry to the pastor and to the other person," the teenager said. "I didn't mean to put anybody through this. I never did, and I feel so bad."
He has since been expelled from school along with the felony charge he is now facing for civil rights intimidation in Shelby County Juvenile Court.
"I have learned to never mess with anyone racially or do anything to that stupid extent, or do anything bad. I should just stick to school and be a good kid," he further explained.
His father, who was not identified in the FOX13 report, insisted his son isn't a racist despite the bad joke.
"My son is not a racist. Sometimes he makes bad decisions and this was the worst decision he has made in his life so far," the father said.
He said when detectives left his home he grilled his son about why he vandalized the pastor's truck with the racial slur.
"I wanted to know what the 'F' was going through your mind," the upset father said he told his son. "What part of this is funny to you?"
When contacted for comment Tuesday, Pastor Mitchell declined discussing the specifics of the incident because it is now a legal matter but explained that he wants the incident to be used as a teaching moment.
"It's my hope that throughout the entire process [we get to a point] where we can witness justice, reconciliation, forgiveness, unity, healing, awareness, from the whole situation. So that's kind of what we are hoping will be the whole outcome," Mitchell told The Christian Post.
When asked if he was surprised that the teenager would see his actions as a simple joke that would "blow off," Mitchell said he wasn't.
"In this day and time, nothing really should surprise us. If you look at the course of history, more than anything, we just don't need to be naïve to the real issues and that's what's taking place. There's a lot of us in this country who turn an eye to the real issues," he said.
"We need to bring about change concerning our thought patterns and behaviors. ... The fact that he was 13 suggests that he learned that behavior either from home — in this case his father was against it — or he learned it from some other outside influence. So maybe that suggests we have to unlearn certain behaviors," he said.
Since he went public with the incident, Mitchell, who said it wasn't the first time he has had to deal with a racial incident in the city, said reactions have been both positive and negative but he is choosing to focus on the positive.
"As Christians our responsibility is to always offer love so at least from me you won't hear about the negative side of it," he said.
"If we think that our purpose in life is anything other than fulfilling that of Christ Jesus then we are sorely misguided," he continued. "I will forever use my platform to pull people to the way of our Lord and Savior Jesus Christ. It doesn't mean that we reject justice because God is a god of justice, I just believe that will take care of itself."
He further called on leaders across the country to use their various platforms to denounce racism and bigotry.
"That's ultimately what this is all about. Trying to bring about awareness. Trying to help those young people understand that you don't really get many second chances in life and so should they be afforded that opportunity that they learn a valuable lesson and that their friends learn a valuable lesson," he said.