Why are we so scared of everything?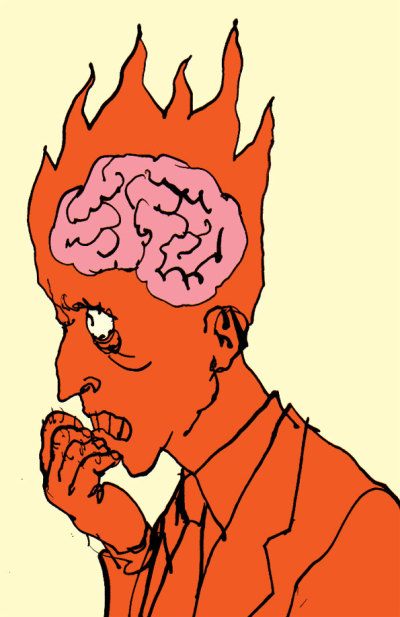 An ice storm hit my city last week, something not so unusual for us in winter. The forecast said ice would arrive late Thursday and melt away by early weekend.
The calm, level-headed population of my town reacted just as you would expect: by behaving as if they had been dropped alive into the disaster movie, "The Day After Tomorrow."
Panic ensued everywhere. Grocery stores were stripped clean and left barer than from the national supply chain debacle. Although you shouldn't drive during an ice storm, people created long lines at gas stations causing the price to jump 30 cents a gallon. Hardware stores saw WWE cage matches between customers over bags of salt.
All this because they might have to stay home for a day and a half. Why do people behave this way?
It's because today, maybe more than ever, we're afraid of everything. And our fear causes us to act in the most irrational ways imaginable.  
Just two days ago I watched a fitness promoter talk about one of the many keto-styled diets. Incredibly, even though the guy had a heart attack while on the diet and didn't seem to be able to put two-and-two together that eating a stick of butter as a snack at night was bad, his biggest fear articulated in the video was getting too many carbs by eating an extra strawberry or two during a meal and gaining weight.
Really…that's what you're afraid of? Not what caused your heart attack?  
Real and imagined fears have always been with us, so that's nothing new. There are absolutely things to truly be afraid of and then there is the kind of bogus fears that result in otherwise rational people hoarding toilet paper.
Even though many will tell you we're living during one of the safest periods in human history, we seem to constantly be afraid and laser-focused on what we fear. Like one writer said about COVID, "The virus status quo is that it is in our heads all the time."
The mass media does everything in its power to make us afraid, so much so that a new term – "worry (or panic) porn" – has come along to describe it. Research from Dartmouth, covered in a New York Times article, found that the U.S. news media has been much more negative with their coverage than any other national source. The study found the percentage of bad news broadcast by American media sat at a whopping 90% vs. smaller percentages for other countries.
Last week I wrote about how I believe the judgments of God are all around us, but we're so out of tune with Him that we don't see them for what they are. I think a case can be made that this blanket of fear that swaddles so many of us these days is another one of those and I've got a few biblical precedents I'd like to share that I believe back me up.
Running away when no one is chasing you
In the Old Testament, the nation of Israel was told about the blessings they would experience if they were faithful to God and the consequences that would result if they were not. One of the penalties for disobedience was an irrational fear that would be ever-present with them, one so bad that "you will flee when no one is pursuing you…and the sound of a driven leaf will chase them, and even when no one is pursuing they will flee" (Lev. 26:17, 36).
Israel was also told, "the Lord will give you a trembling heart, failing of eyes, and despair of soul. So your life shall hang in doubt before you; and you will be in dread night and day, and shall have no assurance of your life. In the morning you shall say, 'Would that it were evening!' And at evening you shall say, 'Would that it were morning!' because of the dread of your heart which you dread" (Deuteronomy 28:65–67).
A practical example of this is also seen later in the Old Testament, but this time it's with a nation fighting against Israel. Their entire army was put to flight when, "the Lord had caused the army of the Arameans to hear a sound of chariots and a sound of horses, even the sound of a great army, so that they said to one another, "Behold, the king of Israel has hired against us the kings of the Hittites and the kings of the Egyptians, to come upon us." Therefore they arose and fled in the twilight, and left their tents and their horses and their donkeys, even the camp just as it was, and fled for their life" (2 Kings 7:6-7).
Sound anything like what we see today? People leave family, friends, jobs, businesses, and most anything behind while they run from fears that are, in reality, fake sounds in their ears that are as dangerous as a leaf blowing in the wind.
The good news for God's people
This judgment of fear is not something constrained only to Old Testament Israel because the first part of Proverbs 28:1 says, "The wicked flee when no one is pursuing."  Thankfully, the author quickly follows it up with, "but the righteous are bold as a lion."
How are you doing on the bold-as-a-lion front these days?  I hope well given that the most often repeated command from God to us in Scripture is, "Fear not."
We're told that when we live within the confines of God's wisdom, "Then you will walk in your way securely, and your foot will not stumble. When you lie down, you will not be afraid; when you lie down, your sleep will be sweet. Do not be afraid of sudden fear, nor of the onslaught of the wicked when it comes; for the Lord will be your confidence and will keep your foot from being caught" (Prov. 3:23-26).
Rather than being afraid of everything, we should face each new day in a way that resembles the motto of a 20th-century Christian fighter squadron, which was: "Today I am invincible, unless the Lord has other plans."
Doing so acknowledges the sovereignty of God over our lives and provides a refreshing testimony in an age that is permeated with fear. 
Robin Schumacher is an accomplished software executive and Christian apologist who has written many articles, authored and contributed to several Christian books, appeared on nationally syndicated radio programs, and presented at apologetic events. He holds a BS in Business, Master's in Christian apologetics and a Ph.D. in New Testament. His latest book is, A Confident Faith: Winning people to Christ with the apologetics of the Apostle Paul.