Why Huma Abedin Chose to Stay With Anthony Weiner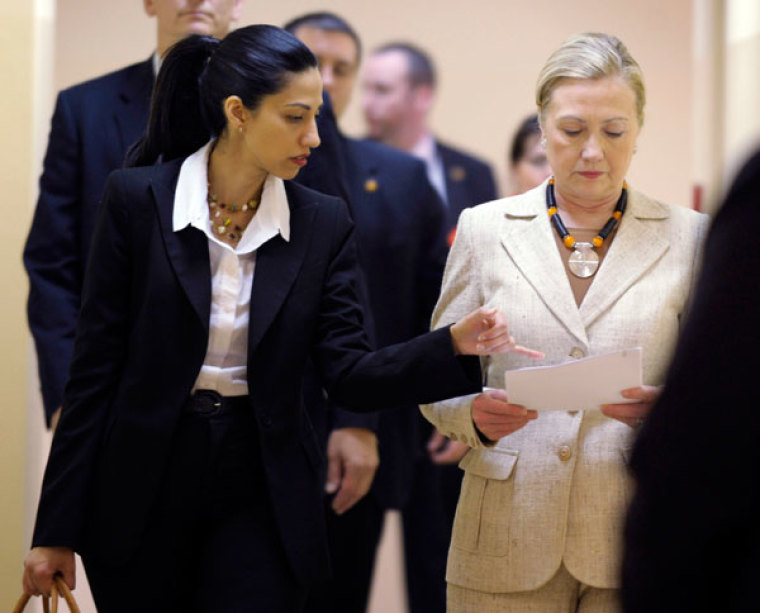 Although she thought about leaving him, Huma Abedin, wife of embattled New York City mayoral candidate Anthony Weiner who is currently caught in the throes of a controversial sexting scandal, is staying with her husband for the sake of her 19-month-old son, Jordan.
According to a report in PEOPLE Magazine on Wednesday, when Abedin learned of Weiner's latest bout of explicit sexting with multiple women he did not know, she was ready to pack it all up and run, but she decided to keep their marriage intact for their son.
"Confidants of Anthony Weiner's wife tell PEOPLE in this week's issue that Abedin was on the verge of leaving Weiner last fall, after he confessed in September he was sexting again," noted the report.
"The couple had even confided to family members that they might split. But when it came to actually packing her bags and carrying their son Jordan away, Abedin couldn't do it," explained the article.
"Huma has a very strong moral character, and she made a commitment for better or worse," Abedin's longtime friend, New York businesswoman Rory Tahari, told PEOPLE. "She never wanted Jordan to say to her, 'Why didn't you do everything you could to help Dad?'"
Despite her decision, however, it didn't come without pain.
According to a POLITICO report with further details on a more comprehensive article expected from PEOPLE on why Abedin stayed this Friday, she has been crying since her husband's latest sexting scandal broke.
"When we spoke, she broke down. This is deeply upsetting to her," according to a friend, who had spoken with Abedin.
"Every day that she alluded to his problems and said he's a better man, and it's in the past — she was taking it too far. She knows that," the magazine quoted a close friend as saying.
The report noted that Abedin remains committed to her husband's campaign and is angry that some of the couple's friends, including the Clintons, have turned their backs on Weiner.
PEOPLE noted that according to one family member, when Abedin and Weiner did "intensive" joint therapy last fall, which remains ongoing, "they really became a unit and she feels much closer to Anthony now."
Based on the therapist's advice to "live your life, don't be paralyzed by your past," it was Abedin who encouraged her husband to get back to seeking his lifelong dream of being mayor of New York City.