'Wolfwalkers' animated film inspired by divide between Irish Catholics, Protestants: director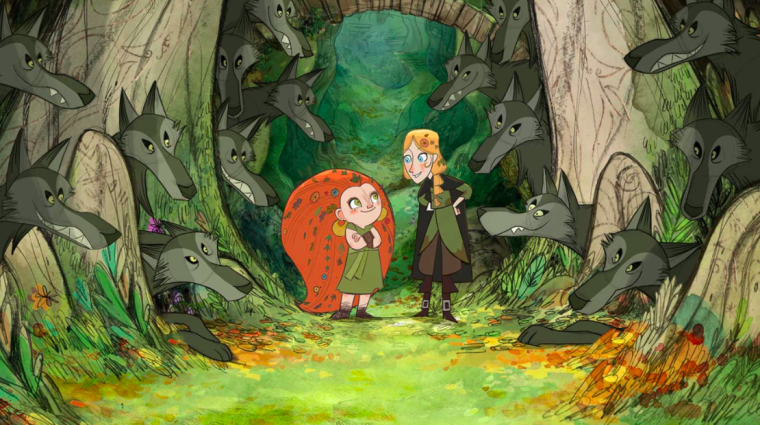 Irish director Tomm Moore revealed the Oscar-nominated "Wolfwalkers" was inspired, in part, by the "unfortunate" divide between Catholics and Protestants in Northern Ireland, and shared why he hopes the animated film can be a vehicle for unity. 
Streaming on Apple TV+, "Wolfwalkers" is set in 17th century Ireland near a city called Kilkenny, where Robyn Goodfellowe, a young English apprentice hunter, arrives with her father. Per the instruction of Lord Protector, the duo is tasked with wiping out the last wolf pack. 
While exploring the forbidden lands outside the city walls, Robyn befriends a free-spirited girl, Mebh, a member of a mysterious tribe rumored to have the ability to turn into wolves by night. As they search for Mebh's missing mother, Robyn uncovers a secret that draws her further into the enchanted world of the Wolfwalkers and risks turning into the very thing her father is tasked to destroy.
In an interview with The Christian Post, Moore, who created "Wolfwalkers" alongside Ross Stewart, said that through the film, he wanted to "speak to species extinction and its meaning for people in Ireland."
"A lot of our folklore is connected to nature and how a lot of it was completely destroyed by wiping out the woods and through fires. It's really still a contemporary thing," he said. 
But more importantly, Moore said he wanted to speak to the "real divide" he was surprised to discover is still occurring between Christians and Catholics in Ireland — a feud the animator said he believed had ended centuries ago. 
"But it's coming back, this divide between Catholics and Protestants in Ireland," he said. "It's unfortunate."
By making a film in which a "little English girl from the original colonization arrives and makes friends with a little Irish girl from the really ancient Irish indigenous population," Moore said, he hopes to encourage viewers to have empathy for one another despite differences.
"Maybe it's a bit naive, but it's just a little gentle reminder, rather than being too preachy, because I think the whole world has gotten more and more divided," he said. 
"When I was a kid in the '80s in Northern Ireland, there was that really obvious divide, but now when you look around the world, it seems like there are more and more people taking sides and seeing other groups of people, as 'the other.' And rather than focusing on what they have in common, they kind of focus on pretty small differences," he added.
"Wolfwalkers" is heavy on religious themes and imagery. The film's villain, Lord Protector is a deeply devout and angry Christian who calls the wolves' den "the devil's lair." Throughout the film, the draconian nature of the city's religious leadership starkly contrasts the idyllic imagery associated with paganism. 
But the film, Moore stressed, is not anti-Christian — though it has been billed as such. Rather, he said, it's a historically accurate representation of how Christianity was misused in 17th century Ireland to justify horrific deeds. 
"Religion there got mixed up," he said. "The big part of why Lord Protector was so hard on Kilkenny was because the city was the capital of Catholic Ireland. By destroying the spirit of the people here, they were kind of making a statement that it was the new Protestant world. So it was politics at work."
"Lord Protector is a 'true believer,' which makes him kind of dangerous, but I don't know that he's really a Christian. I think Christianity, unfortunately, can be interpreted by people to justify pretty un-Christian deeds," Moore added.
"Wolfwalkers" is the third and final installment in Moore's "Irish Folklore Trilogy" and follows the success of "The Secret of Kells" and "Song of the Sea." Each film created in the Kilkenny, Ireland-based studio was nominated for an Oscar for Best Animated Feature.
The films are all traditional hand-drawn animation — a medium Moore told CP he felt went "hand in hand" with the fairytale-nature of the stories.
"Certain stories like this are kind of timeless; they're like picture books, so they just make more sense to express in hand-drawn animation," he explained. "It can be really expressive; it gives a certain feeling that computers can't."
When asked about the popularity of the films, Moore noted that ancient folklore "has a lot of room for interpretation to modern concerns."
"With this film, in particular, I think a lot of people are responding to the fact that there are these two girls that are supposed to be enemies. But they managed to be friends and bring a lot of healing to their community," he said. "There's hope and healing. And maybe people are just needing a bit of fun and fantasy. It's been a tough year for a lot of people."
A grandfather himself, Moore said he hopes the characters of Robyn and Mebhe encourage young women to break free of the constraints he believes are placed on them by society. 
"Women in 1650 had everything to lose by going against the grain of what society expected," he shared. "When you read the history of that time, it was very harsh on young women. But even today, I think a lot of young women feel a lot of pressure by society to be a certain way. I hope that when they see Robyn and Mebh, they're inspired to live their own lives instead of what society tells them to do."
Though billed as a film for children, the pagan elements in "Wolfwalkers," along with some violence and a couple of misuses of God's name, might give parents pause. However, the film does drive home some powerful truths for older viewers — such as the importance of empathy and kindness. 
"This movie is quite layered," Moore acknowledged. "But if people enjoy these kinds of themes of understanding and empathy, I think they'll appreciate what this film has to offer."