David Chalian Fired for Saying 'Romney Happy to Party While Black People Drown'
Yahoo News Chief Heard Joking During Live Coverage of GOP Convention in Tampa
Yahoo News has reportedly fired David Chalian from his post as Washington, D.C., bureau chief after he made incendiary comments regarding GOP presidential nominee Mitt Romney and his supposed treatment of African-Americans.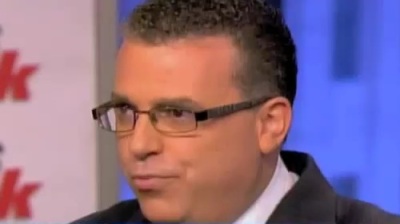 "David Chalian's statement was inappropriate and does not represent the views of Yahoo! He has been terminated effective immediately. We have already reached out to the Romney campaign, and we apologize to Mitt Romney, his staff, their supporters and anyone who was offended," Yahoo News confirmed in a statement to Politico early Wednesday afternoon.
To confirm Chalian's termination, Yahoo News also tweeted: "David Chalian's statement was was inappropriate and does not reflect the views of Yahoo!. He has been terminated."
Chalian found himself in hot water after a hot microphone snafu in an Aug. 27 ABC News/Yahoo webcast covering the Republican National Convention in Tampa, Fla., became public Wednesday.
"Hey John, feel free to say, they're not concerned at all," Chalian said to an unknown individual named John while the webcast played a video clip of the former Massachusetts governor and his wife greeting reporters.
"They are happy to have a party with black people drowning," Chalian added, seemingly unaware that his microphone was on during the video clip of Romney.
Chalian was evidently making a connection between the current Republican National Convention currently taking place in Tampa, Fla., and Hurricane Isaac, which is currently making its way across the Gulf Coast and through New Orleans.
Although Chalian's comments in the sound clip do not directly mention Mitt Romney or Ann Romney by name, the Yahoo News' statement regarding Chalian's incident confirms that the ex-bureau chief was indeed talking about the GOP presidential nominee.
Chalian's comments have upset several in the Twittersphere and beyond, who claim that he was using the political tactic of race-baiting against the Republican Party.
"Hi David Chalian, did you bother to offer a prayer for Issac (sic) victims before using them in a race-baiting attack?" tweeted Dana Loesch.
"I'm not calling for government censorship of David Chalian. But Yahoo News hired him to pose as objective. That mask is now gone," tweeted Jon G.
Chalian was formerly the political director at ABC News until 2010. ABC News partnered with Yahoo News for 2012 political coverage.