88-Year-Old Former Pastor Finally Graduates From College: 'With God All Things Are Possible'
At the age of 88, a retired pastor finally received his college diploma, achieving a 56-year-old dream.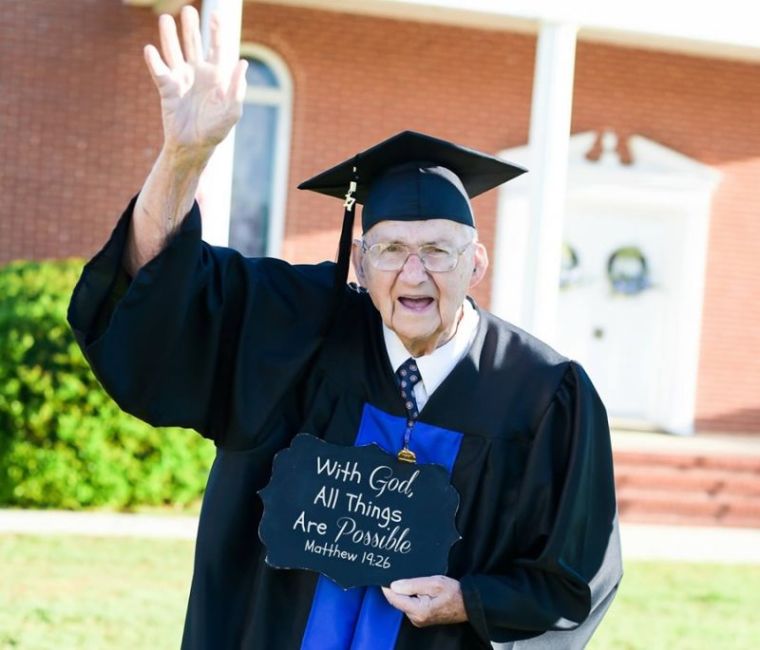 The Rev. Horace Sheffield first enrolled at Shorter University in Rome, Georgia in 1961 but left without a diploma in 1965 to give way to his own daughters who were entering college, the Rome News-Tribune reported.
He said he wanted to take care of his family first. "I had some daughters that were getting ready to go to college and I couldn't go to college and put them through, so I dropped out with 115 hours," he told WTSP TV station.
On Friday during the graduation ceremony at Shorter University, the crowd cheered as Sheffield walked to the stage with the aid of a walker to receive his diploma for his Bachelor of Science degree in Christian Studies.
"It's a thrill of a lifetime," he said later, surrounded by his family, consisting of his two children, five grandchildren, and 14 of his 15 great-grandchildren. "I finally made it," he exclaimed.
Sheffield became the first graduate of Shorter's online degree program in Christian Studies.
Jill Worthy Brazier, one of Sheffield's granddaughters, posted on her Facebook page a picture of her granddad on his graduation day, holding a chalkboard sign that says, "With God all things are possible.— Matthew 19:26."
Sheffield was ordained back in 1946, the same year he graduated from Tallapoosa High School.
He spent the next 70 years teaching the Bible, according to CBN News.
Sheffield was a devoted father to his children and husband to his wife Bernice who succumbed to Alzheimer's disease a few years ago. They were married for 68 years.
Following his wife's death, Sheffield decided to do something for himself two years ago: He re-enrolled at Shorter University.
He said he went back to school simply because he wanted to get his diploma. He was further motivated to go back to school after reading a magazine article stating that senior citizens can often attend certain colleges and universities without paying tuition.
"I am living proof that you have no excuses," he said.