Adrian Peterson Olympics Dream: Wants to Compete Against Usain Bolt in Rio 2016 (VIDEO)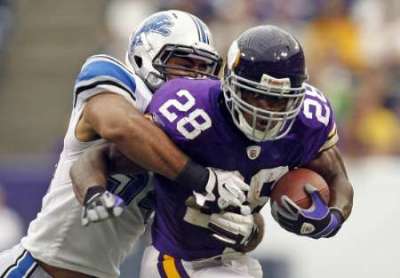 Adrian Peterson has said that he would love to compete in the 2016 Olympics. The Minnesota Vikings running back could gave been forgiven for keeping his focus entirely on beating Eric Dickerson's single season rush record, or driving the Vikings into the NFL playoffs. However, he is setting his goals well beyond his current ambitions.
Peterson has told In Depth that he would love to start training for the track in the hopes of qualifying for the 2016 Olympics scheduled to take place in Rio de Janeiro. His ultimate goal - to take on sprint superstar Usain Bolt.
Peterson has said, "I feel like I can stand up to any challenge. I know a lot of people laugh and be like 'come on, let's be real with yourself -- it's Usain Bolt,' but I feel like you can accomplish anything you put your mind to."
Peterson came up just 9 yards short of the 208 yards he needed in Sunday's game against the Green Bay Packers to break Dickerson's single season rush record. However, he became only the seventh player ever to go past the 2,000 yard mark for a season, and he also demolished the Packers' defensive line again and again to drag the Vikings into the playoffs.
The Vikings needed to defeat one of the Super Bowl favorites on the final day of the season to clinch their playoff spot. And after another massive drive by Peterson, the Vikings claimed a field goal as the final play of the game to move three points clear of their rivals and claim their spot in the postseason.
However, despite blasting away all-comers on the football field, Peterson has said that he ideally would like to train and qualify for the 200m or 400m in Rio. He said, "I want to test the waters and see what I can do," according to In Depth.
But some have questioned Peterson's ambitions as a simple pipe dream, pointing out that he will be 31 by the time the 2016 Olympic Games come around.
However, it would take a brave person to put any goal beyond this man. Most had written him off after his horrific ACL injury - but just 12 months later he has made his mark in NFL history by breaking 2,000 yards and established himself as by far the best running back in the league. The Olympics could be a far off dream, but one that someone like Peterson could turn into reality given his drive and talent.
Adrian Peterson of Minnesota Vikings misses out on NFL Record