Casey Anthony Sued Again for Defamation in New $15,000 Lawsuit (VIDEO)
Casey Anthony Sued Again for Defamation in New $15,000 Lawsuit (VIDEO)
Casey Anthony is being sued again – a second time for defamation, according to new reports emerging this week.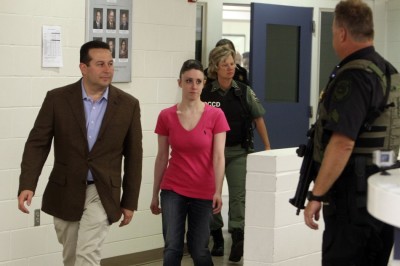 In a new lawsuit filed on Wednesday this week, Roy Kronk, the person who discovered the remains of two-year-old Caylee Anthony in December 2008, has claimed damages of more than $15,000.
Kronk claims that Anthony, "through her attorneys, made statements too numerous to recite," that amount to defamation against him.
The lawsuit claims that "false and defamatory" statements, many directed towards Kronk, state that he was the killer of Anthony's young daughter. The suit also claims she lied saying that Kronk was a child snatcher, he played a role in hiding the body, and that he is "morally bankrupt, took the body and hid it."
The new lawsuit will not be overwhelming to Anthony or her attorneys, who have been in court consistently since her acquittal of her daughter's murder. She has also already been sued for defamation by a woman with the same name as a babysitter Anthony made up, claiming that she had kidnapped Caylee.
Man Who Found Caylee's Body Sues Casey
In yet another legal action, Anthony is also the subject of a suit from the organization that conducted extensive and expensive searches for Caylee in the weeks following her disappearance. The organization based its searches on lies made up by Casey Anthony about her daughter's disappearance in the aftermath of the incident.
Casey Anthony was acquitted of the murder of her daughter in July.