Chris Christie Still Undecided About Sexual Orientation Therapy Legislation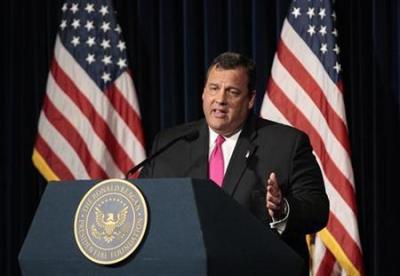 New Jersey Gov. Chris Christie has said that he is not decided on whether to put his support behind new legislation that would ban gay or sexual orientation therapy.
At a press conference on Wednesday Christie said, "I'm of two minds just on this stuff in general," according to the Newark Star Ledger.
He added, "Number one, I think there should be lots of deference given to parents on raising their children. ... Generally philosophically, on bills that restrict parents ability to make decisions on how to care for their children, I'm generally a skeptic of those bills. Now, there can always be exceptions to those rules and this bill may be one of them."
Christie is known to be against any change to the definition of marriage as between one man and one woman. On sexual orientation therapy he has simply stated that he does not know much about it.
Meanwhile, Christopher Doyle, a psychotherapist and the Director of the International Healing Foundation - a non-profit organization that has helped thousands of SSA and LGBT individuals, and their families, since 1990 - recently penned an Op-Ed addressing the issue of sexual orientation therapy.
In the column he questioned current proposals to ban sexual orientation therapy, labeling the bans themselves as intolerant: "Where is tolerance? Where is diversity? Where is equality? If you live in California, New Jersey, Pennsylvania, Washington, or Massachusetts and have a child who experiences unwanted same-sex attraction (SSA), soon you may not find tolerance, diversity, or equality there. That's because activists in these states are carefully working with sympathetic members of their state legislatures to take away your parental rights and your child's ability to receive treatment for unwanted homosexual feelings."
He added, "That's right, even if your child was sexually abused by a pedophile such as Jerry Sandusky and develops homosexual inclinations as a consequence, he/she may not be able to receive Sexual Orientation Change Effort (SOCE) therapy from a highly educated and skilled professional counselor, social worker, or psychologist."
Referring to a Massachusetts bill titled, " An Act Relative to Abusive Practices to Change Sexual Orientation or Gender Identity in Minors," he described the bill as "politician-speak for: counselors are only allowed to affirm a client's homosexual orientation-that is, if a minor comes into a therapist's office and is confused about her or his sexual orientation, the therapist is obligated to help him or her accept their homosexuality. Period."
He added, "There is no mention of the possibility of changing from a homosexual to a heterosexual orientation. This is forbidden, even if the client and/or his family's values conflict with homosexual practice."
He concluded saying: "When I contacted the offices proposing a ban on SOCE therapies and asked them to cite studies that show "harmful" outcomes for adolescents, they could only point me to position statements from liberal trade organizations, which are known for their one-hand clapping viewpoint, strictly pro-gay and anti-ex-gay. If these organizations were made up of objective scientists that looked at all the evidence, such legislation would not be allowed anywhere."