Chris Pratt Praises God As He Visits Sick Children In London Hospital
Chris Pratt recently took a break from filming the sequel to "Jurassic World" at Pinewood studios in the U.K. to spread cheer to young patients at Great Ormond Street Hospital in London.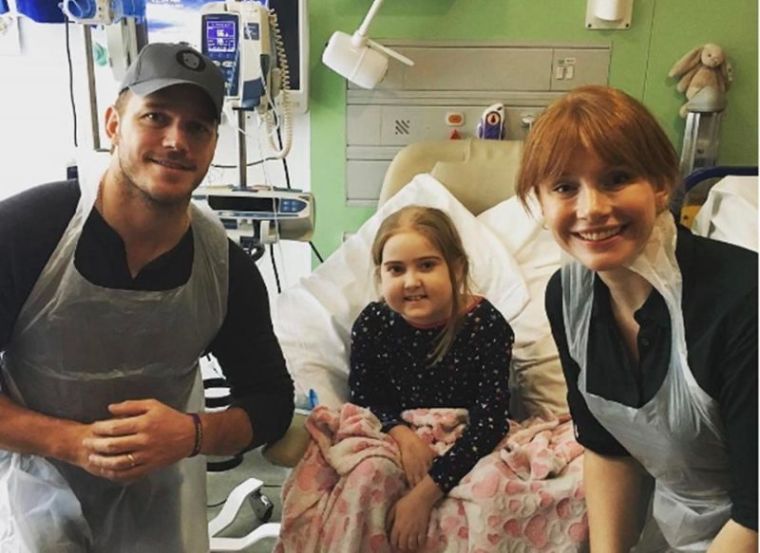 The 37-year-old Christian actor, accompanied by his "Jurassic World" co-star Bryce Dallas Howard, shared several photos of their visit on his Instagram (@prattprattpratt) account.
In one photo, Pratt and Howard are seen sitting next to a young patient named Elle. The "Guardians of the Galaxy" star included these words in the photo's caption:
"I'll never fail to be moved by the unbreakable spirit of a child. #godisgood."
Pratt then quoted Psalm 107:8-9: "Let them praise the LORD for his loving kindness, for his wonderful deeds to the children of men! For he satisfies the longing soul. He fills the hungry soul with good."
"No doubt," the actor said. "Today my longing and hungry soul is filled."
Pratt was seen keeping a low-profile as he chatted with children who were receiving treatment at London's leading hospital for children, the Daily Mail reported.
Aside from being one of today's most successful Hollywood actors, Pratt has become well-known for his frequent visits to children's hospitals and his charitable work, according to The Gospel Herald.
He often urges his 11.5 million social media followers to pray for young fans struggling with life-threatening illnesses.
Pratt has recently been using his Hollywood appeal to help Makenna Schwab, a 14-year-old girl with Larsen syndrome, raise money for Seattle Children's Hospital in Seattle, Washington.
In just five days, Pratt and Schwab have raised $200,000, and all proceeds will benefit the orthopedics department at Seattle Children's Hospital, according to KOMO News.
Pratt previously spoke to People about his "helplessness" when son Jack was born nine weeks premature in August 2012.
He said his son's survival restored his faith in God.
"We were scared for a long time. We prayed a lot," Pratt said. "It restored my faith in God, not that it needed to be restored, but it really redefined it."