Church of Scotland's Move allowing Ministers to Perform Same-Sex Marriages Dismays Other Church Leaders
Church of Scotland's Move allowing Ministers to Perform Same-Sex Marriages Dismays Other Church Leaders
Church leaders have expressed alarm following reports that the Church of Scotland has taken steps to allow its ministers to perform same-sex weddings.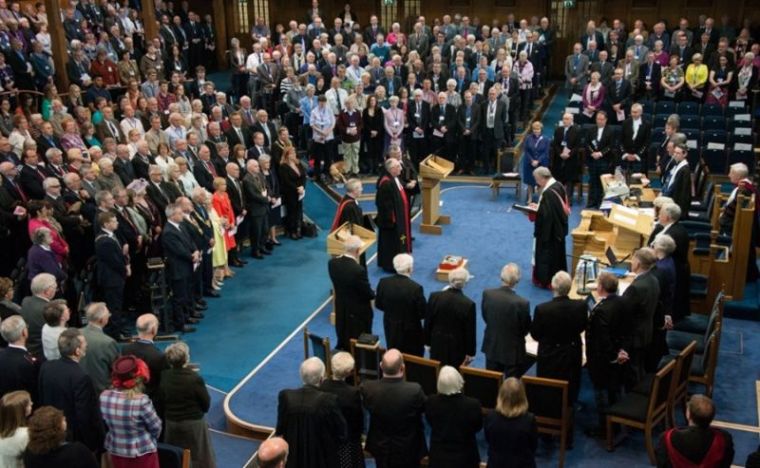 Last week the General Assembly of the Church of Scotland released a statement calling for a study into how same-sex ceremonies in church could be allowed, The Belfast Telegraph reported.
The Assembly also called for the Kirk - a familiar term for the Church of Scotland - to apologize for its "history of discrimination" against gay people.
Responding to these moves, Dr Frank Sellar, the head of the Presbyterian Church in Ireland, expressed "disappointment" that the Kirk had decided to turn away from the biblical understanding that marriage is between a man and a woman.
Northern Ireland is the only part of the United Kingdom where same-sex marriage has not been legalized.
A spokesman for the Presbyterian Church in Ireland earlier said that "many people in the Presbyterian Church in Ireland will be deeply saddened by today's developments in Scotland, which we believe is at variance with the traditional biblical understanding of marriage between one man and one woman," The Christian Institute reported.
Revd Dale London, a Church of Scotland minister in Angus, also made known his opposition to his own church's action, saying that homosexuality is against the Word of God.
"We cannot call good what God has called evil," he was quoted as saying.
Revd Mike Goss also criticized the change in the Kirk's doctrine, saying that "same-sex relationships are not what God has planned for us as human beings."
No one is without fault, even in heterosexual relationships, but that "we don't bless that which is wrong and that has got to be key in terms of the gospel," he said.
In its report, put forward by the influential Theological Forum, the Church of Scotland acknowledged that the Bible condemns same-sex acts, but claimed that Scripture was framed by cultural context.
Although marriage was already redefined in Scotland in 2014, individual churches are not yet required to hold same-sex weddings.
Revd Prof Iain Torrance, Convener of the Theological Forum, even suggested that there was no theological reason not to allow ministers to conduct homosexual unions.
Supporters of biblical marriage within the Forum proposed a series of amendments but were defeated.
The Kirk has now embarked on a study process to determine how same-sex weddings in churches can be allowed.