Dennis Rodman, Kim Jong Un Vacationing Together in August? (VIDEO)
Dennis Rodman had such a good time on his recent trip to North Korea that he is reportedly planning to return and have a vacation with leader Kim Jong-un. He spent quite a bit of time with the tyrannical dictator, and despite the state of the North Korean populace, Rodman gave him a favorable rating upon his return to the United States.
Rodman, a former NBA star, recently told Valley News Live that he was having a hard time explaining what he saw in North Korea but that it was "awesome" and described Kim Jong-un as a "friend." When asked what he thought of the harsh leader's latest threats against the United States and South Korea, Rodman said that he maintained his belief that the dictator did not want to "do war."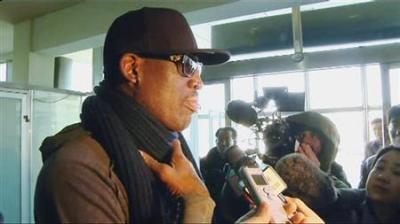 "He wants to do one thing; he wants to not fight," Rodman said. "He's not the one [making the threats]. No one has ever seen him [make the threats]. Have you seen him do it? No one has ever seen him do it!"
Rodman said he is "vacationing with him" in August but refuses to mix politics with pleasure. "I want people to be happy," Rodman insisted.
Rodman has been a controversial figure in his own way ever since playing in the NBA. To date, Rodman has worn a wedding dress to his own wedding, colored his hair in multi-colored fashions, had multiple tattoos and piercings, and most recently, declared bankruptcy due to illness.
Apparently Rodman must be feeling better and doing better financially if he is to vacation with North Korean royalty. It was almost one year ago that Rodman owed $800,000 in back child support and faced time in prison if he did not make restitution. His lawyer argued that he was "broke" and "extremely sick" and unable to pay.
Now, however, Rodman is once again in the limelight, where he loves to be, and at the center of international controversy. Kim Jong-un has issued new threats against both the United States and South Korea, causing more unrest between North and South Korea. The Southern country has told its military to be prepared in case of attack.
Watch Rodman announce his plans here: