Jennifer Aniston Cheat Day: Actress Reveals What She Eats When She Cheats on Her Diet (VIDEO)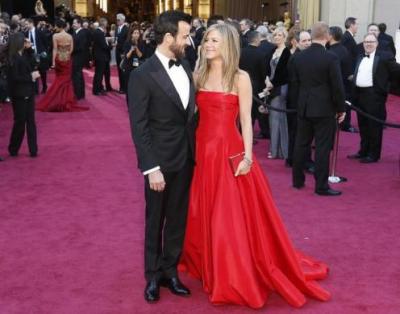 Jennifer Aniston's cheat day includes Mexican food or pasta, the actress revealed while talking about her strict dieting plan over the weekend.
Aniston is well known for being disciplined with her diet and health regime to ensure that she maintains her figure. However, the actress has admitted that she, like most others, has the occasional cheat day, where she steps away from her regular strict diet to indulge in some foods she craves.
The 43 year old actress was speaking about her diet this weekend at an event to celebrate her yoga instructor's new book, "Yogalosophy: 28 Days to the Ultimate Mind-Body Makeover."
Aniston explained about her cheat days, saying: "Cheat days for me are usually … it's either Mexican food … maybe Italian pasta, but I think you always have to do it in moderation."
As well as maintaining a strict diet most of the time, Aniston explained that she balances her diet with regular healthy workouts. She admitted that she was a big fan of yoga, and that her yoga instructor, Mandy Ingber, was largely responsible for helping her maintain her slim figure all these years.
Aniston said: "That was always my 'ugh,' my legs … That's why I credit Mandy (for my legs), with yoga."
The Hollywood actress' comments come as new reports recently claimed that she and fiancé Justin Theroux have postponed their wedding, with some claiming it's simply because they want to agree on the fine details of the event and make things perfect.
The couple announced their engagement in August 2012 after two years of dating. Initial reports had claimed that they were planning a spring wedding, however, it was recently claimed that their big day has now been pushed back until the end of the summer.
"Jen and Justin have been totally relaxed about the wedding planning. They're looking forward to the wedding, but they have different ideas about the actual wedding itself," a source told Mail Online.
"It's not to do with them as a couple, they're madly in love. Every time you see them they've got their arms around each other," the source continued. "Jen wants something bigger with all their friends, Justin would just like something a bit more intimate."
Here is a video on Jennifer Aniston's yoga instuctor's new book:
Jennifer Aniston Yoga Workout | Mandy Ingber's Yogalosophy