Miracle in Washington: Plane Slams Into Ground, Bursting Into Flames — But Pilot, Passenger Walk Away Unscathed
People watched in horror as a plane came falling down from the sky and bursting into flames as it crashed on a crowded roadway in Mukilteo, Washington state.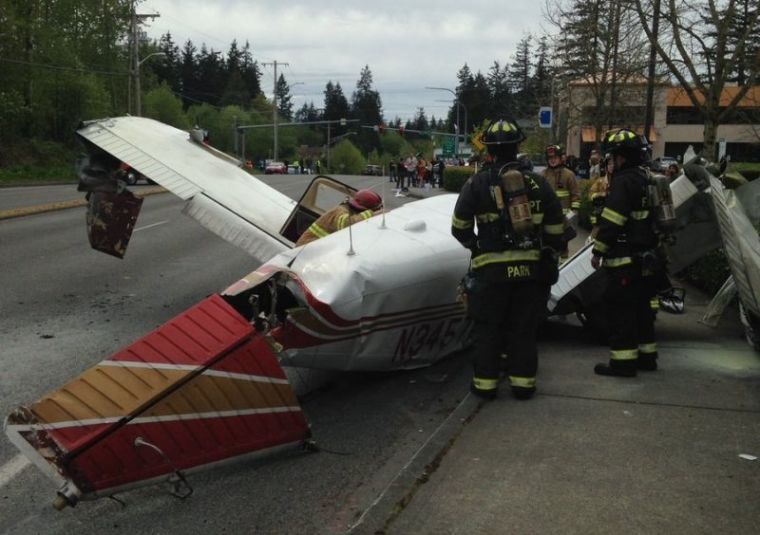 Authorities said the single-engine plane clipped power lines and sent fuel and fire pouring down on the cars below before plowing the ground and hitting at least five cars, KIRO-TV reported.
Miraculously, however, the plane's pilot and his lone passenger were able to escape unscathed from the wreckage, reports said. The survivors' identities as well as how they managed to stay alive remained unclear.
Police reported only two minor injuries on the ground, according to the Seattle Times.
The incident was captured on a video from a car dashcam by a witness named Guanting Li, who was in his car when the crash happened.
The Federal Aviation Administration identified the aircraft as a single-engine Piper PA32. It crashed moments after taking off from a runway at nearby Paine Field.
The 30-year-old pilot told investigators that he started losing power after takeoff and couldn't restart the engine. As he began to go down, he decided to try and land the plane on Harbour Pointe Boulevard after seeing that it was clear and open.
Perhaps the biggest air crash miracle that happened in the U.S. was the one that took place on Jan. 15, 2009 when US Airways Flight 1549, with 155 people on board, crash-landed on the Hudson River off midtown Manhattan in New York City.
The incident came to be known as the "Miracle on the Hudson," with a National Transportation Safety Board official describing it as "the most successful ditching in aviation history." It was also made into a movie, titled "Sully," in September 2016 with Tom Hanks playing the role of Captain Chesley Sullenberger, the heroic pilot who saved the lives of over a hundred people with his quick thinking and deft maneuvering of the plane after a major bird strike caused both engines of the plane to fail just after takeoff from New York's LaGuardia Airport.
"It's amazing that all of us survived that day," one passenger told Inside Edition when he and 34 other plane survivors met for a reunion in Charlotte, North Carolina in September last year.
The survivors marveled at the aircraft, which stayed largely intact during the splashdown.
"That's part of the miracle," one passenger said. "It only sustained minor damage. We were all able to get out and ultimately no loss of life."