MMA News 2016: Eddie Alvarez Says He's Not Threatened By Conor McGregor; Aldo Hell-bent on Leaving UFC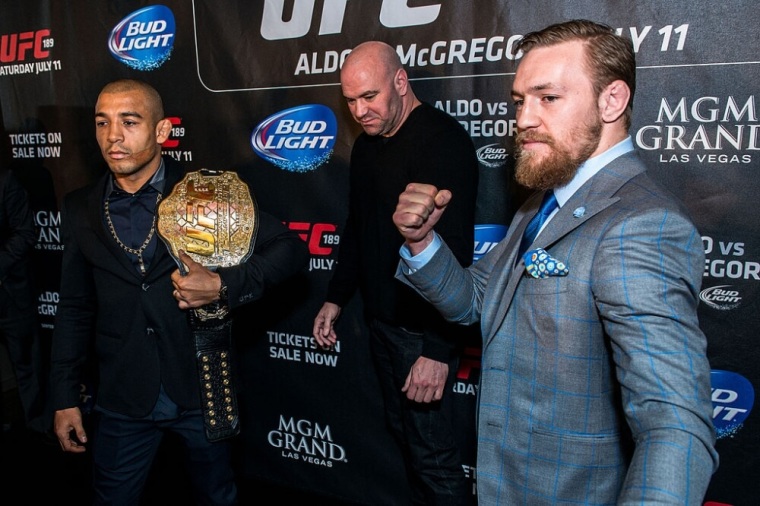 Conor McGregor is not known as MMA's "The Notorious" for nothing. The flamboyant fighter markets himself so well, he commands all the attention in the world - at least in the sport.
Some even brand him as the "Mayweather of MMA". And while Conor may not want to be compared with the guy he'd want to take down, it's a very flattering comparison and one that is quite spot on. Floyd Jr. is on top of boxing's pecking order, he's the sport's top draw, he's got a loyal fanbase, he lives in opulence--- plus he's got the big mouth, as well.
But, not everyone is impressed, though. Conor's UFC 205 opponent, Eddie Alvarez, simply dispels the notoriety like it was just some myth or hoopla.
The Lightweight Champ Scorns Conor McGregor
Following the pre-fight conference ahead of their Nov. 12 showdown at the Madison Square Garden, Alavarez had this to say against Conor.
"Usually when square off with a man, my heart rate goes up, I feel something," Alvarez said on The MMA Hour. "I never felt so unthreatened by a human being as when I was up on a stage with him. That's the God's honest truth. I've never felt so unthreatened."
He went on with his tirade by saying that Conor, who took a leap onto the lightweight division after conquering the featherweights, is just a class below compared to the tough fighters in the division. He thinks that Conor is just not on par with the lightweights in terms of power and versatility.
And the lightweight king also discredited his opponent's conditioning level, judging from what he saw in Conor's last match against Nate Diaz.
Alvarez, however, got acquainted of how much McGregor enjoys the support of more MMA fans. He admitted that he was quite surprised by the boos he got from the UFC 205 press conference crowd. Later on, he dismissed McGregor's supporters as WWE fans who don't appreciate the combat sport of MMA.
Jose Aldo is Gone for Good from the UFC?
The former featherweight champion did not budge on his demand to be released from his UFC contract. Aldo was fed up with all the promises that were not fulfilled like the potential rematch between McGregor and him.
He also felt like Dana White has been favoring McGregor for the longest time deferring to all the fighter's desires. Aldo believes that McGregor should have been stripped off of his belt already for fighting a title match at another division.
And now, the 30-year-old Brazilian fighter said that he's already made up his mind and that nothing would convince him otherwise. Not even if Dana White offers him the McGregor rematch the following day.