Obama Helicopter Grounded: Massive Sandstorm Grounds President Following The Beast's Problems (VIDEO)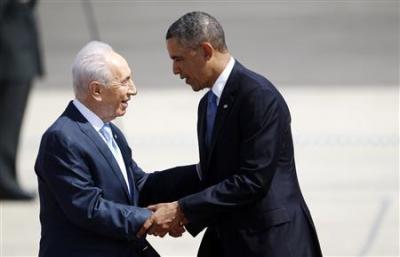 President Barack Obama's helicopter has been grounded by a sandstorm in Israel, according to reports on his Middle East visit.
The incident is the second problem Obama has had with transportation since arriving in the region; first "The Beast" broke down, and now a sandstorm has resulted in officials deciding to opt on the side of safety and ground his helicopter.
There were no signs of the sudden sandstorm when Obama set out in the morning to tour Mt. Hertzl and visit Yad Vashem, Israel's museum to the Holocaust; it was warm and clear.
However, soon strong winds arrived in the area earlier than expected, meaning it was unsafe for Obama to take the helicopter from the region to the Palestinian-controlled Bethlehem.
Obama had earlier used the helicopter on Thursday when he visited a Palestinian-controlled area, which was a visit to Ramallah.
As a result of the sandstorm Obama's motorcade of more than 30 vehicles had to work their way through the hilly roads to an Israeli checkpoint to get into Bethlehem.
When he finally arrived in Bethlehem, President Obama toured the Church of Nativity, which is located above the cave where experts believe Jesus was born.
During his trip, Obama has stated that Israel has "the unshakeable support" of the United States in its efforts to defend its country and make peace with its neighbors.
In remarks given by the president on Thursday at the Jerusalem Convention Center, he spoke about the strong ties between the United States and Israel: "Those ties began only 11 minutes after Israeli independence, when the United States was the first nation to recognize the State of Israel."
"I am proud that the security relationship between the United States and Israel has never been stronger: more exercises between our militaries, and more exchanges among our political, military and intelligence officials than ever before; the largest program to date to help you retain your qualitative military edge."
Here is a video news report into President Obama's Israeli visit:
Israeli reaction to Pres. Obama's visit