Peter Steer Carjacked During News Report: 'I Couldn't Fight the Devil,' Says Shooting Suspect (VIDEO)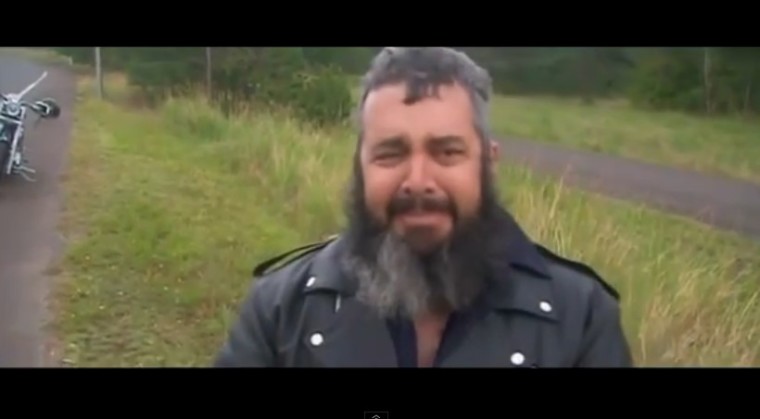 Peter Steer was carjacked while heading to a shooting in Noosa Heads for Australia's 7News Thursday, according to reports. The video journalist was stopped by the suspected shooter Jule Brook, who confessed on camera before having a change of heart and turning the gun on Steer.
Peter Steer's carjacking involved the suspect flagging him down while riding his Harley Davidson motorcycle. The bearded man was distraught as he revealed what happened.
"A chap on a Harley sort of pulled me over, I thought there might have been something wrong with my car. He got off his bike and approached me and said, 'I've got a story for you,'" Steer recalled. "I said, 'Well mate, you better hurry because I'm going to a shooting,' and he said, 'Mate, I'm the shooter.'"
45-year-old Brook, who had blood on his hands and was barefoot, confessed to shooting a woman.
"I just hope that she's alive. I think she's dead," the man said on camera. "I'm so f-----."
While the suspect's rambling 30-minute confession was still ongoing, Steer took the opportunity to call police.
"You gotta talk to me now, I'm Peter Steer from Channel 7, there's been a shooting in Noosa. I have the shooter with me," he explained.
However, after 30 minutes police still had not arrived, forcing the cameraman to keep Brook talking. Steer tried the police again in a second phone call and told them "I have the person you're looking for."
Brook, still confessing, said that he shot the woman because he "couldn't fight the devil."
Suddenly Brook carjacked the news van Steer had been driving and pointed his pistol at the journalist's face. Brook is heard trying to convince the man not to kill him.
"Don't be a f------ idiot. Mate, don't be silly," Steer said.
Brook drove off and crashed into a nearby gas station. A witness said he was asking for a lighter, but before he could cause any more damage police arrived and detained him.
Jule Brook is facing charges of attempted murder, armed robbery, dangerous operation of a motor vehicle, possession of a firearm and two counts of willful damage. He will appear in Maroochydore Magistrates Court on Friday.
Gunman confesses to TV cameraman then hijacks his car