Walmart Hostage Video Released: 2 Year Old Taken Hostage by Knife-Wielding Man (VIDEO, PHOTO)
Walmart Hostage Video Released: 2 Year Old Taken Hostage by Knife-Wielding Man (VIDEO, PHOTO)
A Walmart hostage situation has shocked locals in Oklahoma after video footage of the terrifying incident went viral online this week showing a 2 year old toddler being held at knife point.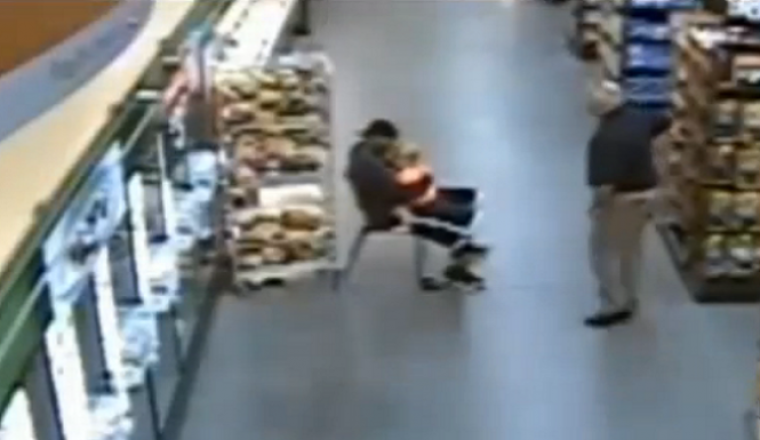 The hostage incident took place in a Walmart in Oklahoma and the entire ordeal was caught on camera by the store's security camera.
Authorities have since released footage of the video to the public, and the video captures the horrendous ordeal for the little girl.
The video shows 37 year old Sammie Wallace taking the 2 year old hostage with a knife.
According to ABC News, the incident in fact took place a few weeks back on June 17 at a store in Midwest City, Oklahoma. The video shows the small girl shopping with her mother, Alice Keating at the store, when suddenly Wallace snatched the toddler from a shopping cart.
The man is seen holding a knife to the terrified girl's neck as authorities attempt to convince the man to let her go.
The tense ordeal only ends when a police officer fires and hits Wallace at point blank range, killing him instantly.
Midwest City Assistant Police Chief Sid Porter said: "He had a weapon in his hand. A knife-type weapon holding up against the child, threatening the child's life."
Exclusive Op-eds from the Presidential Campaigns
According to WPEC TV, the store was quickly evacuated once the hostage situation arose, and authorities were quick on the scene to start trying to negotiate with the man.
It is reported that they spoke with Wallace for about 30 minutes before he suddenly said that he was going to kill the girl in 60 seconds.
Wallace then reportedly pressed the knife up hard against the child's neck and started counting down from 60. As it became clear that the negotiations were not working and that the girl's life was absolutely in immediate danger the officer shot and killed Wallace.
Former FBI agent Brad Garrett said: "When a subject starts telling you that in 60 seconds he's going to kill a hostage, that's going to move you right up to the point that you will shoot him and that's what occurred in this case."
Here's a video of the Walmart hostage situation:
MWC Police Release Video Of Man Who Held Girl Hostage in Walmart -Oklahoma City, OK