Why do so many dismiss the importance of sacred space?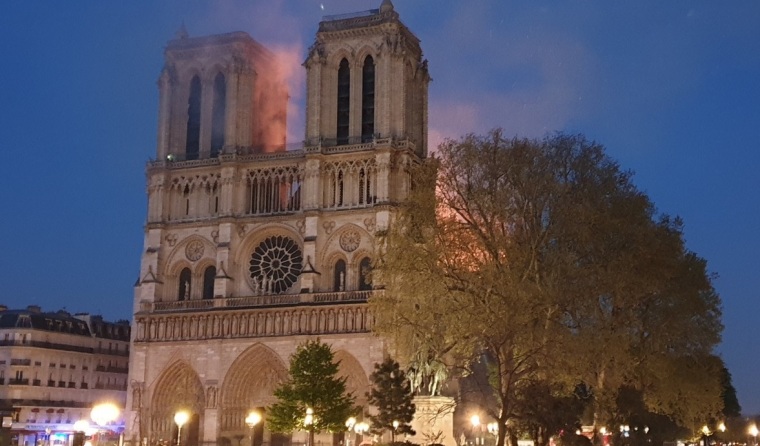 As the Notre Dame cathedral burned, many mourned—some for the destruction of history and beauty and others because it was one of the world's most iconic houses of Christian worship, where for centuries, French Catholics lifted up prayer, song, and sacrament to God.
As of now, the devastating fire has been ruled an accident, but earlier suspicions that the blaze may have been deliberately set weren't unfounded. In the months prior to the Notre Dame fire, historic churches across France were set ablaze, altars and crosses and statues were knocked down, and treasures were looted, all by vandals. Some churches were even fouled with human excrement. By some reports, over 800 churches were hit just last year.
In fact, there's been a startling surge in church desecration worldwide. Back in January, the Guardian reported on a new wave of anti-Christian persecution in China. Hundreds of churches have been shut down, defaced, even demolished by the Chinese government. Last year, officials in Shanxi province dynamited the sanctuary of Golden Lampstand Church, one of China's largest houses of Christian worship.
And that's not all. Here in the States, a Louisiana man was just charged with setting fire to three African American churches in St. Landry Parish. And just last week, in the wake of the Notre Dame fire, New York police arrested a philosophy professor at St. Patrick's Cathedral who was "carrying cans of gasoline and lighter fluid." Heaven only knows what he had planned.
Of course, in addition to hundreds of people tragically killed by Islamic militants in the Sri Lanka terror attacks on Easter Sunday, many church buildings were devastated too.
Godless governments, racists, radical Islamists, and common arsonists seem to understand that places matter, especially sacred spaces. But before the smoke had even cleared above Notre Dame last week, well-meaning Christians took to social media to remind us that the Church isn't a building, it's a people.
Of course, that's true… in the same way that a family isn't a house. But that doesn't make it less tragic, painful, or awful when someone's house burns down! Why are so many, especially evangelical Christian, so quick to dismiss the importance and value of tangible beauty and creative expression, including sacred space?
Since the very first days of the early church, Christians have struggled with the temptation to stray into a Gnostic way of thinking. Gnosticism takes various forms, but believes that the material world is ultimately bad, and therefore only "spiritual" things matter.
Terrorists, racists, and vandals attack sacred space because of what it means, not only to those who worship but to the histories of the communities in which they exist. Sacred space is defined by a purpose, set aside for the worship of God. When the early Christians were finally free to publicly worship, they responded by setting aside space for corporate and individual worship, some that are amazing feats of architecture and design. For two millennia Christians sought to fill these spaces with beauty—in art, song, and in reverence. It's an amazing heritage.
The fact that so many churches today are seen primarily as functional spaces, and therefore made to look like shopping malls or performance venues, suggests that we've lost something. Charles Taylor called it "disenchantment." That's a fancy way of describing how a sacramental view of reality has been replaced by an efficient, functional view.
Of course, true worship often happens in plain, simple buildings. The book of Acts describes a pretty amazing worship service once held in a Philippian jail. Still, the human impulse to beautify spaces, and to mourn the loss of spaces points to a truth about God and ourselves.
Russian novelist Fyodor Dostoyevsky may have overstated it when he said "beauty will save the world," but to downplay the loss of beauty is to miss something very important about ourselves and our world.
No, buildings aren't the Church. But in a time when attacking church buildings has become a favorite means of attacking God, His people, and even cultural order, we should never forget what even arsonists and vandals know: that beauty matters, and stones can sometimes preach.
Resources
Notre-Dame Cathedral Fire Not Arson But 875 French Churches Vandalized In 2018, Dawn Geske | International Business Times | April 16, 2019
In China, they're closing churches, jailing pastors – and even rewriting scripture, Lily Kuo | The Guardian | January 13, 2019
Originally posted at Breakpoint.
From
BreakPoint
. Reprinted with the permission of the Colson Center for Christian Worldview. All rights reserved. May not be reproduced or distributed without the express written permission the Colson Center for Christian Worldview. "
BreakPoint
®" and "The Colson Center for Christian Worldview®" are registered trademarks of The Colson Center for Christian Worldview.