10 Highlights From First-Ever State Dept. Ministerial to Advance Religious Freedom Worldwide
6. Survivors and Family Members Share Their Stories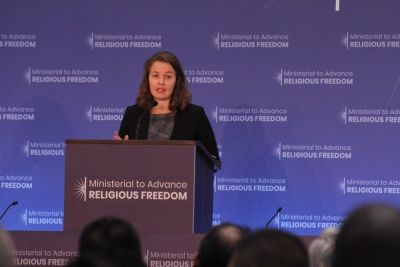 Several survivors of religious persecution and family members of those imprisoned or killed for their faith spoke during the first two days of the ministerial.
Included in the family members who spoke about their loved ones was Brunson's daughter, Jacqueline Furnari.
"It is important to note that during these three [hearing] dates, there has not been one prosecution witness that has been able to provide one shred of evidence that support their ridiculous testimony — a fact that my father pointed out during the May 7 trial date and a fact that none of the judges on the panel seem to care about," Furnari said. "The head judge personally told my father that all the prosecution's witness testimony is simply being taken as truth therefore there is no need for any evidence."
Ji Hyeona, a Christian North Korean defector, spoke about the abuse she faced growing up under the Kim regime.
She recalled a five-hour interrogation in which she was tortured and questioned about believing in Christ and owning a small Bible that her mother smuggled into the country for her.
Hyeona fled the country four times and was repatriated back to North Korea three times.
She recalled being sentenced to a prison camp for over a year for her defection. She finally escaped and made it to South Korea in 2007.
Tahrir Hamut, a Uighur Muslim poet and filmmaker, told the ministerial that he was sentenced to three years in a labor camp in China. He warned that over 1 million Uighurs are in Chinese labor camps.
Additionally, Jamie Powell, the wife of pastor and missionary John Cao, also spoke. Cao is imprisoned in China on a seven-year sentence on false charges of human trafficking.
"It appears to me that John was set up for his arrest because of his faith-driven work," Powell told the ministerial Tuesday morning.