10 Highlights From First-Ever State Dept. Ministerial to Advance Religious Freedom Worldwide
5. Pence Promises Sanctions Against Turkey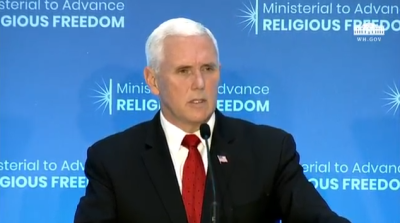 One of the highlights from the ministerial was Pence's remarks about Turkey's detention of imprisoned American Pastor Andrew Brunson.
Brunson, who has ministered in Turkey for over two decades and was arrested in October 2016, was held for over a year-and-a-half in prison on trumped-up charges of terrorism. During the ministerial, however, news broke that Brunson would be removed from prison and placed under house arrest.
Since the 50-year-old Brunson is considered by many government officials to be a political hostage, Pence assured before the 80 foreign delegations that NATO member Turkey would face "significant sanctions" should it decide not to free Brunson and send him home to the United States.
"To President Erdoğan and the Turkish government, on behalf of the president of the United States of America, release Pastor Andrew Brunson now or be prepared to face the consequences,'" Pence said. "If Turkey does not take immediate action to free this innocent man of faith and send him home to America, the United States will impose significant sanctions on Turkey until Pastor Andrew Brunson is free."
President Donald Trump followed up on Pence's remarks by tweeting that Turkey would face "large sanctions" for detaining Brunson.