10 Highlights From First-Ever State Dept. Ministerial to Advance Religious Freedom Worldwide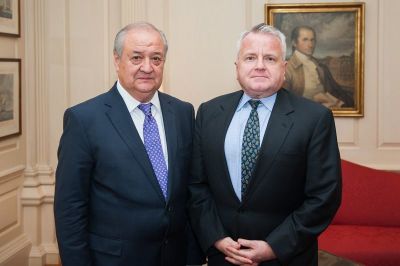 7. Uzbekistan
Uzbekistan's presence at the ministerial was notable because it is listed by the State Department as a "country of particular concern" when it comes to the issue of religious freedom since 2006.
According to the State Department, Uzbekistan law allows for the restriction of religious activities when necessary to maintain national security, social order or morality. The law also requires religious groups to officially register with the government and "declares religious activities of unregistered groups to be illegal." Additionally, Uzbekistan bans a number of religious groups it identifies as "extremist."
Human rights organizations have also voiced concern about the social pressure being put on individuals who convert to Christianity. According to the State Department, Uzbeks who converted to Christianity have suffered harassment and discrimination.
A delegation led by Foreign Minister Abdulaziz Kamilov participated in the ministerial and announced initiatives the government has undertaken that aim to promote religious freedom, protect believers from discrimination and "allow for a peaceful coexistence for all representatives of Uzbekistan's multinational society."
On Friday, Deputy Secretary of State John J. Sullivan hosted Kamilov to discuss Uzbekistan's commitment to religious freedom under the leadership of President Shavkat Mirziyoyev and the recent steps the government has taken "to improve religious freedom as discussed with Ambassador-at-Large for Religious Freedom Sam Brownback."
"Deputy Secretary Sullivan commended Uzbekistan for its progress in improving labor rights and efforts to strengthen respect for human rights, and noted that there is more work to be done to continue to institutionalize reform," State Department spokesperson Heather Nauert said in a statement. "The deputy secretary also thanked the foreign minister for Uzbekistan's regional leadership and efforts in Afghanistan to advance the peace process and support the Afghan people."