2012 Dove Award Winners: Jamie-Grace, Laura Story, Natalie Grant (VIDEO)
The 43rd Annual GMA Dove Awards has recognized today's top Gospel music artists including Jamie-Grace, Laura Story, and Natalie Grant.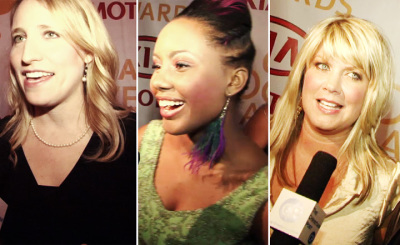 The biggest event of the year in Christian and gospel music took place at Atlanta's historic Fox Theater and saw dozens Christian musicians come together to celebrate music as well as their faith.
Veteran voices Story and Grant were both nominated for Female Vocalist of the Year, while new-comer Jamie-Grace saw a nod for New Artist of the Year.
Story spoke to The Christian Post about gospel music on her way into the Dove Awards in Atlanta last week. Already successful artist, songwriter, and worship leader, the singer named her favorite song before explaining why she was not performing during the event.
"When they asked me I was sick as a dog, I was at the end of my first trimester and I thought 'I don't think they want me vomiting on their stage,'" said the expectant singer, who is due this summer.
The "Blessings" singer took home Dove Awards for Song of the Year and Pop/Contemporary Recorded Song of the Year, as well as Pop/Contemporary Album of the Year.
Nominee and new-comer Jamie-Grace spoke to CP ahead of her performance during the Doves.
"I'm singing 'Hold Me,'" explained the singer of her hit song. "Im really excited about it, we're going throwback '60s- a tribute to Rosetta Tharpe and Johnny Cash and Elvis ... Well not exactly like them but in my heart thats where I'm going!"
The "Hold Me" singer took home the Dove Award for New Artist of the Year.
This year's Dove Awards marked Natalie Grant's fifth win of the award for Female Vocalist of the Year. The "Your Great Name" singer told CP that her favorite part about the awards ceremony was catching up with and congratulating friends on their accomplishments.
Grant spoke to CP alongside her husband, fellow Dove Award nominee and producer Bernie Herms, as they arrived at the awards ceremony Thursday.
"I think he's nominated more times than me tonight," quipped the mother of three.
Grant performed a song Herms wrote during the night before taking home the prestigious Dove Award for Artist of the Year as well as Special Event Album of the Year for "The Story."
The GMA Dove Awards will be televised nationally Tuesday on GMC TV at 8 p.m. EST and again at 10 p.m. EST. Stay tuned to The Christian Post for more exclusive video interviews with the Dove Awards nominees and winners.