4 things to know about Nancy Pelosi's likely successor Hakeem Jeffries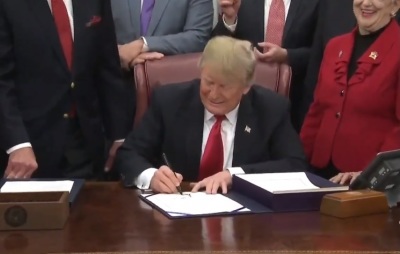 He co-sponsored the 'FIRST STEP Act.' 
While Jeffries has made his opposition to Trump perfectly clear over the years, he co-sponsored one of the major bipartisan legislative initiatives that Trump signed into law during his term: "the FIRST STEP Act."
The FIRST STEP Act, an acronym for the "Formerly Incarcerated Reenter Society Transformed Safely Transitioning Every Person Act," passed the Republican-controlled House in a 358-36 vote and the Republican-controlled Senate in an 87-12 vote.  
Signed into law by Trump on Dec. 21, 2018, the FIRST STEP Act sought to create "programs to help reduce the risk that prisoners will recidivate upon release from prison."
All of the opposition to the measure came from Republicans, some of whom remained skeptical of the criminal justice reform bill's impact on the crime rate and expressed support for a continuation of the tough-on-crime policies the bill sought to dismantle in part.
In a statement, Jeffries described the law's passage as "a victory for all Americans who believe in justice and the power of redemption."
"This bill will transform lives by providing access to the mental health counseling, education, job training and substance abuse treatment needed to help incarcerated individuals to get back on their feet and become productive members of society," he added. "It also provides retroactive relief for the shameful crack cocaine sentencing disparity that unfairly destroyed lives, families, and communities." 
"The FIRST STEP Act is not the end. It's not even the beginning of the end. It's simply the end of the beginning of a bipartisan journey to eradicate the mass incarceration epidemic in America."