4 things to know about Nancy Pelosi's likely successor Hakeem Jeffries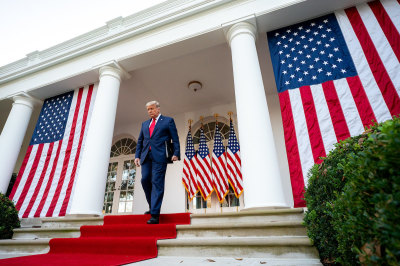 He called Trump an 'illegitimate' president multiple times.
News of Republican "election deniers" losing their bids for elected office has dominated the headlines in the week following the 2022 midterm elections. The term "election deniers" has been used to describe anyone who has cast doubts about the results of the 2020 presidential election after President Donald Trump's repeated claims of election fraud. 
Questioning the results of an election is not a phenomenon unique to 2020.
Democrats have raised questions about the authenticity of the declared outcomes of 2000, 2004 and 2016 presidential elections, all of which were won by Republicans. Jeffries was one of several Democrats to suggest that former President Donald Trump, who won the 2016 presidential election, was not a legitimate president.
In early 2018, Jeffries tweeted, "the more we learn about the 2016 election the more ILLEGITIMATE it becomes." The tweet reacted to a Washington Post article announcing the indictment of 13 Russians accused of interfering in the 2016 election.
"America deserves to know whether we have a FAKE President in the Oval Office," Jeffries wrote, accompanied by the hashtag #RussianInterference.
Jeffries' tweet reflects the narrative that the Trump campaign colluded with the Russians to spread disinformation to cast doubt on Democrat Hillary Clinton's candidacy in 2016. A 22-month investigation from special counsel Robert Mueller found that Russia tried to interfere in the Russian election but "did not find that the Trump campaign, or anyone associated with it, conspired or coordinated with the Russian government in these efforts, despite multiple efforts from Russian-affiliated individuals to assist the Trump campaign."
In September 2018, Jeffries took to Twitter to outline what he viewed as the shortcomings of the Republican Party, which included what he described as the propensity to "CHEAT." The lawmaker cited "2016 election/Russian interference" as an example of the party's cheating.
In November 2020, shortly after the 2020 presidential election, Jeffries directed a tweet at Trump, saying, "history will never accept you as a legitimate president."