5 Things to Know About the Paige Patterson Controversy
The Accusations
As The Christian Post has reported, during the 2000 interview Patterson offered one example of a time where he advised a woman to pray for her abusive husband by his bedside and then one morning she showed up to church with two black eyes.
"She was angry at me," Patterson said. "And she said, 'I hope you're happy.' And I said, 'Yes ma'am, I am.' And I said, 'I'm sorry about that, but I'm very happy.'"
Patterson later explained that the husband had showed up to church that morning, had repented of his actions, and is "a great husband today."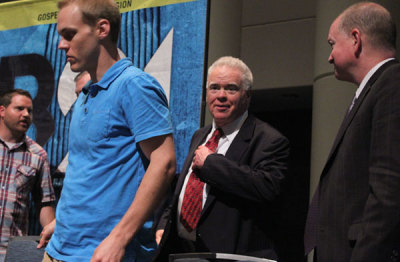 Additionally, a video resurfaced days later of a January 2014 sermon Patterson gave at a Las Vegas church during a conference in which he talked about an unnamed 16-year-old girl. He recalled a time when a mother was speaking to Patterson about something she was unhappy about while her teenage son and his friend stood nearby. When an "attractive" young girl walked by, one of the teens remarked, "Man, is she built!" The mother then rebuked him, but Patterson defended the boy, saying, "Ma'am, leave him alone. He is just being biblical. That's exactly what the Bible says." 
Another part of the Patterson controversy includes the firing of an employee. As calls began for Patterson to step down, SWBTS Ph.D. student Nathan Montgomery approvingly retweeted a May 1 Christianity Today article by Ed Stetzer in which Stetzer urged Patterson to retire, expressing his personal agreement with it. Montgomery was summarily fired from his job as a catering manager at the seminary and his scholarship was revoked; a document outlining his termination reportedly stated that "public disagreement does not align with Scripture."
Also, earlier this year, Patterson, the Southern Baptist Convention, SWBTS, and Houston's First Baptist Church were named as defendants in a sexual abuse case against retired Texas state judge Paul Pressler. The lawsuit, which demanded more than $1 million from the defendants, argued that the parties were liable for their connections with the judge and that they "had actual or constructive knowledge" of the judge's alleged misconduct and had covered it up. The plaintiff in the case alleged Patterson knew about molestations Pressler was allegedly committing but failed to report it, as reported by Texas Monitor.
A 1991 Dallas Morning News story has also re-emerged amid the most recent controversy surrounding Patterson. The report involves his time as president of a Bible college in the late 1980s. It was then when Patterson reportedly helped promote an African-American preacher named Darrell Gilyard even after several women confronted him with charges against Gilyard of sexual misconduct and abuse. Patterson said then that the women lacked evidence and witnesses and Gilyard would go on to serve in several churches and was arrested for sending obscene messages to underage girls in 2008.
Gilyard was subsequently convicted and spent three years in prison. Patterson maintained in 2008 that 20 years prior he had expelled Gilyard from Bible school when Gilyard confessed to adultery and has had nothing to do with him since that time.