Actor Shia LaBeouf Seeks Forgiveness After Telling Officer He's 'Going to Hell' Because He's Black
Actor Shia LaBeouf Seeks Forgiveness After Telling Officer He's 'Going to Hell' Because He's Black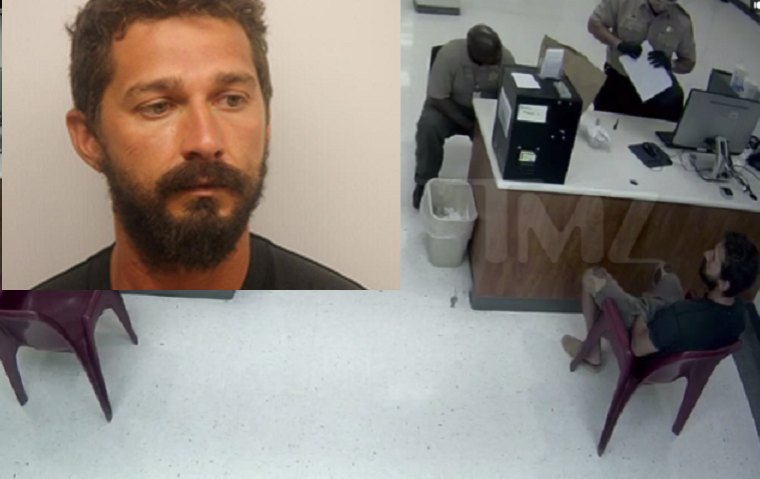 Troubled actor Shia LaBeouf is now seeking forgiveness after going on a drunken racist tirade at the Savannah Police Department in Georgia where he told a black officer that he will be "going straight to hell" because of his race.
"You're going to hell, straight to hell, bro," LaBeouf told a black officer in video highlighted by TMZ as he was fingerprinted after being arrested Saturday morning. The actor was charged with public drunkenness, obstruction and disorderly conduct, according to the Savannah Morning News.
In the video, a white officer responding to the actor known for his roles in "Transformers" and "Fury" noted that being black "doesn't mean he's going to hell." LaBeouf replied: "It means a whole lot, bro."
According to the Savannah Morning News, the 31-year-old actor was arrested in Savannah around 4 a.m. after he became disorderly and began using profanity in the presence of women and children when he wasn't given a cigarette.
When he was told by a police officer to leave the area, he became aggressive and ran to a nearby hotel when the officer tried to arrest him.
LaBeouf was reportedly filming a movie in Savannah called "The Peanut Butter Falcon" with fellow actors Dakota Johnson and Bruce Dern.
After he was arrested and placed in the backseat of a patrol car, he allegedly told an officer that he "wishes (the officer) caught him in Los Angeles with his conceal(ed) carry," according to the police report.
"During the trip to the jail, (LaBeouf) repeated multiple times that (one of the arresting officers) was a racist for arresting a fellow white man," the report continued.
When he arrived at the Chatham County Detention Center, the actor further told another officer he "would spit in (his) face if it was not for the fact that he respected (the officer)."
Several surveillance videos released of his arrest shows him using vulgar language to verbally abuse several officers, including telling a white officer that his wife desires black men.
In the pre-booking area of the detention center, officers say LaBeouf "became very disorderly and loud" and had to be restrained against a wall. He continued, however, to "struggle against the wall" and "began reaching on (an officer's) gun belt and began pulling on (his) radio, while (LaBeouf) was stating that he was grabbing for (the officer's) gun."
The report explained that the officer put his hand on LaBeouf's shoulder "in an attempt to maintain control of him," and "It was at this point in time that (LaBeouf) leaned over and kissed (the officer's) hand."
After the videos of his behavior went viral, the actor released a statement Wednesday evening asking for forgiveness and blamed it on addiction.
"I am deeply ashamed of my behavior and make no excuses for it," he said in a statement on Twitter. "I don't know if these statements are too frequent, or not shared often enough, but I am certain that my actions warrant a very sincere apology to the arresting officers, and that I am grateful for their restraint. The severity of my behavior is not lost on me."
He further indicated that he intended to seek treatment for his addiction.
"My outright disrespect for authority is problematic to say the least, and completely destructive to say the worst. It is a new low. A low I hope is a bottom," he said. "I have been struggling with addiction publicly for far too long, and I am actively taking steps forward securing my sobriety and hope I can be forgiven for my mistakes."