Alleged Rape Victim Says She Now Forgives Paige Patterson, Claims Letter Shared Online Was 'Edited'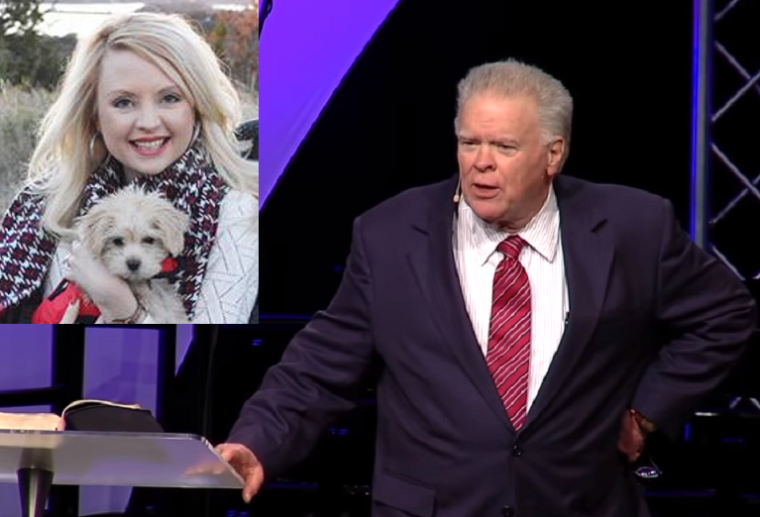 The woman who came forward claiming that Paige Patterson mishandled reporting her alleged rape in 2003 says she's forgiven him, but also claims that a letter she wrote back then, released by Patterson's assistant's wife in May, was "edited."
In a blog post titled "Redeeming Love" published Thursday, Megan Lively of North Carolina said that although news has died down about the recent controversy that engulfed the Fort Worth, Texas-based seminary, Patterson and his supporters, she wanted to share a few things about the next chapter of her life.
"To the Pattersons and the Colters, I forgive you. My relationship with God is broken if I choose to be unrepentant and unforgiving. Scripture says — 'bless those who curse you, pray for those who abuse you.' That is my prayer for you. That God will bless you," Lively wrote.
The Colters she referred to are Scott and Sharayah Colter; Scott is Patterson's former chief of staff and Sharayah is his wife. On May 31, Sharayah Colter released documents and other information on SBC Issues in an attempt to show another side of the story. She maintained that the mass media's reporting had misrepresented the situation and felt compelled to speak from her own experience of working alongside Patterson.
Lively's story first broke in The Washington Post on May 22 and although she had not publicly identified herself at that time, the article said that Patterson met with Lively along with four male seminarians and urged her not to report the alleged rape. The alleged sexual assault occurred in 2003 while Lively was a student at Southeastern Baptist Theological Seminary in North Carolina, where Patterson was its then president.
Sharayah Colter published a letter and personal note from Lively to Patterson in 2003, in which she apologized for her own sin in this particular situation, bolstering Colter's statements that Patterson was not the one at fault.
Lively, however, claimed on Thursday that the letter Colter published was "edited" and that she had evidence of it but did not disclose what that evidence was.
Colter maintained in a June 3 Twitter post that she did not steal any documents, and said that what she released was approved by legal counsel, and that she "positively did not alter any records."  The Christian Post reached out to Colter Friday for response to these newer allegations that she edited the documents. 
In an email to CP, Colter said: "The letters between Megan Lively and Dr. Patterson have not been edited other than adding black bars over her personal address to protect that from public release. The letters had been filed in Dr. Patterson's personal correspondence records for almost 15 years. While a Southwestern Seminary witness observed for accountability, the originals were removed from the files, photocopied and returned to the files in their original condition. The content of the photocopies released to the public has been altered in no way whatsoever."
In her post, Lively added, "While it wasn't necessary for me to defend myself at the time, it is important at this point in my journey for people to know the truth and for truth to be brought to light." She then joked, "As Abe Lincoln says, 'Don't believe everything you read on the internet.'"
She went on to say that God has redeemed this ordeal and used it "to draw me closer to Him."
"And the relationship I have with my husband is sweeter, stronger and more vibrant than it has ever been. We feel like newlyweds. We have a deeper relationship with God than we had before. Don't ever doubt what God is doing in the midst of what seems to be a horrible situation."
Lively also announced she is heading back to Southeastern to complete her master's degree.
"I am grateful for a Savior that pursued me and called me and loved me. And while some may think He wasn't present at times, I can look back and see His Hand in all things throughout these 15 years," she added.
The series of complaints and calls for Patterson's ouster, as well as women who described a culture of sexist attitudes on the SWBTS campus, first began in late April when audio footage of an interview he gave in 2000 was released. In it, Patterson said he never counseled couples to get a divorce even in abusive situations, but stressed that there were cases in which he advised a temporary separation due to the danger of abuse. He said he even received threats at one point when he helped an abused woman leave her husband.
The Southern Baptist Convention's annual meeting, held in Dallas two weeks ago, yielded some conversation about how the nation's largest Protestant evangelical denomination handles instances of spousal abuse and sexual misconduct within its churches and affiliated institutions.
The denomination's newly-elected President J.D. Greear has recently urged evangelical men to apologize to women for "toxic church culture."
"For all of us who are being sobered by a fresh awareness of how the church needs to grow in these areas, I am praying that we would collectively acknowledge how slow we have been to pay attention to those who tried to get our attention before now. I am praying that we would model what repentance looks like by humbling ourselves before God apologizing to our sisters," he said earlier this month.