American Christian Missionary Arrested in North Korea on Spying Charges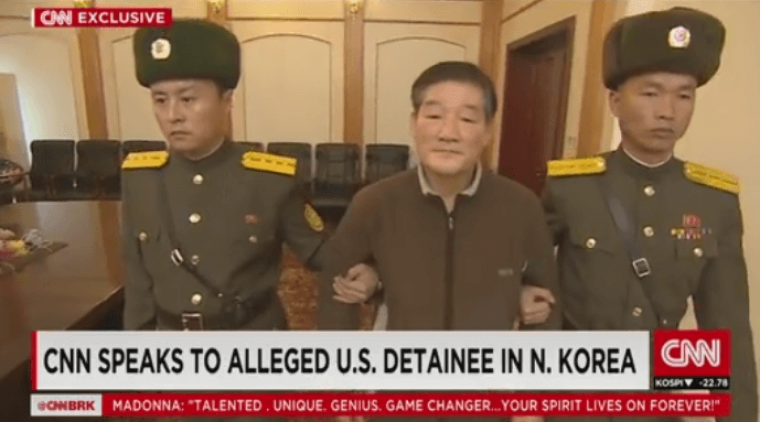 A Korean-American man who says he has been detained as a prisoner in North Korea on espionage charges has been identified as a Christian missionary and a pastor who has worked in the United States and China.
On Monday, CNN broadcasted an exclusive interview with a man named Kim Dong Chul in Pyongyang who claims that he has was arrested by the Kim regime over three months ago on the charge that he was spying on North Korea's nuclear program.
Although the U.S. State Department has refused to confirm Kim's detention in Pyongyang, Kim told CNN that when he was arrested, authorities seized his USB drive and documents detailing North Korea's nuclear program.
Kim, who reportedly used to live in the Washington D.C. suburb of Fairfax, Virginia, says he was born in South Korea and became a U.S. citizen over 30 years ago.
Although Kim admitted to obtaining North Korean nuclear files by bribing a man with military access, he asserts that he was not spying for the U.S. government but on behalf of "South Korean conservative elements." He called on the U.S. or South Korea to rescue him.
After Kim's interview was broadcasted, a North Korean defector named Ma Young-ae told Reuters that she met Kim inside the U.S. in 2007 and explained that he informed various churches in California and Virginia that he was a missionary who wanted to help the poor in North Korea. She added that he also asked churches for donations.
"He told the churches that he was a missionary working in North Korea and sending stuff from China into the North to help poor North Koreans," Ma said.
Ma stated that Kim also explained that his ministry worked on sending medical aid in and out of the North Korea-China border area of Rason. Ma added that Kim even asked her and her husband to come with him on a missions trip to China.
"I was shocked to see his face on TV," Ma said.
Park Simon, another pastor who also went with Ma and Kim to a number of church gatherings in the U.S., told Voice of America News that Kim has been known to frequently visit North Korea and even added that Kim once called him from Pyongyang over four years ago.
Although Kim admitted in his interview that he had spied on North Korea's nuclear program, it could be entirely possible that the regime has forced such a confession out of him.
This is not the first time that the regime has imprisoned a foreign pastor and had him confess to crimes against the state.
Last year, Hyeon Soo Lim, a South Korean born man who became the pastor of one of Canada's largest megachurches, was arrested on the grounds that he was trying to overthrow the state.
In August, the totalitarian country released a video showing Lim confessing to his charges in front of a congregation at Pyongyang's state-run Pongsu Church.
In December, a North Korean court sentenced Lim to life in prison with hard labor.
CNN was also granted access to interview Lim, who told the news agency that he is being forced to dig holes eight hours a day, six days per week.
On Wednesday, the Christian persecution watchdog group Open Doors released its annual World Watch List of countries where Christians face the worst persecution. For the 14th consecutive year, North Korea ranked No. 1 on the list, making it the greatest persecutor of Christians in the world. Between 50,000 and 70,000 Christians are believed to be detained in labor camps in the country.