Beau Biden, Eldest Son of Vice President Joe Biden, Dies of Brain Cancer at 46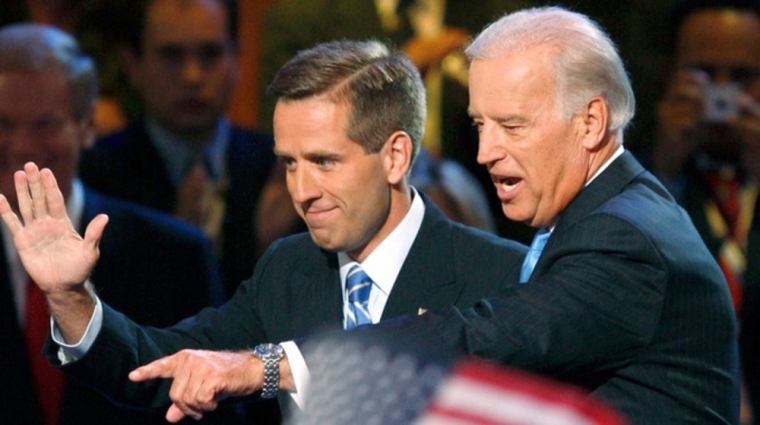 Joseph "Beau" Biden III, former attorney general of Delaware and the eldest son of Vice President Joseph R. Biden Jr., died Saturday after losing his fight with brain cancer. He was 46.
"It is with broken hearts that Hallie, Hunter, Ashley, Jill and I announce the passing of our husband, brother and son, Beau, after he battled brain cancer with the same integrity, courage and strength he demonstrated every day of his life," began a statement on the tragedy from the vice president on his son's website.
"The entire Biden family is saddened beyond words. We know that Beau's spirit will live on in all of us—especially through his brave wife, Hallie, and two remarkable children, Natalie and Hunter," it continued.
The statement went on to highlight some of Beau Biden's accomplishments, noting it was "defined by service to others."
"As a young lawyer, he worked to establish the rule of law in war-torn Kosovo. A major in the Delaware National Guard, he was an Iraq War veteran and was awarded the Bronze Star. As Delaware's Attorney General, he fought for the powerless and made it his mission to protect children from abuse," said the statement.
"Beau measured himself as a husband, father, son and brother. His absolute honor made him a role model for our family. Beau embodied my father's saying that a parent knows success when his child turns out better than he did…In the words of the Biden family: Beau Biden was, quite simply, the finest man any of us have ever known," the statement ended.
According to The New York Times Beau Biden, suffered what officials described as a mild stroke in 2010 and three years later, he was admitted to the University of Texas M.D. Anderson Cancer Center in Houston, Texas due to "an episode of disorientation and weakness."
Doctors in Texas reportedly removed a small lesion from his brain in 2013.
Beau Biden's death is the second tragic loss for the vice president according to the Times. In 1972, his first wife, Neilia, and 13-month-old daughter, Naomi, were killed in a car accident after the station wagon they were driving in to go Christmas shopping was hit by a tractor-trailer. Beau Biden and his brother, Hunter, were also injured in the crash, but both survived.
President Barack Obama shared his thoughts on Beau Biden's death in a statement in which he also called the vice president "one of the strongest men" he had ever known.
"For all that Beau Biden achieved in his life, nothing made him prouder, nothing made him happier, nothing claimed a fuller focus of his love and devotion than his family," Mr. Obama said. "Just like his dad."