Benny Hinn Believes Billy Graham's Death Will Start 'Revival'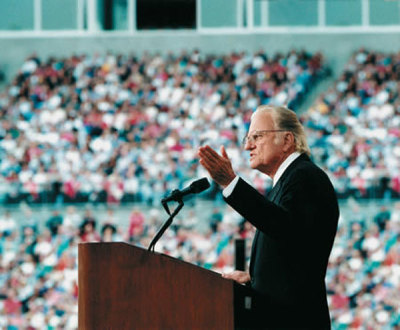 Preacher and televangelist Benny Hinn has said on a Trinity Broadcasting Network program that he believes when the Rev. Billy Graham dies, America will experience a major religious revival.
In remarks recently delivered in the United Kingdom posted on YouTube, Hinn said that the famous 93-year-old American preacher's death would be a sign.
"The sign will be Billy Graham's death," said Hinn, as another individual on the video spoke of "a manifestation of power" being brought down on thousands of people.
"You are talking about a people in hiding, just like Elijah was hiding … The Lord said to me in '89 – yeah, '89, He said when Oral Roberts and Billy Graham go home will be the key, will be a sign, of the beginning of the greatest revival on earth. Oral is home. Billy is about to go home. And when he does, I am telling the whole church, get ready."
The YouTube video was posted by an account under the name "Kawale," who has as of Monday 21 videos uploaded, nearly all of which focus critically on televangelists and modern Christian spirituality.
"Kawale" has posted the video twice, with the second posted video of Hinn's remarks being longer and including a comment below the video from "Kawale" quoting 2nd Timothy 4:4: "And they shall turn away their ears from the truth, and shall be turned unto myths."
Neither Benny Hinn Ministries nor the Billy Graham Evangelistic Association have officially commented on the remarks made by Hinn on TBN and queries sent by The Christian Post were not returned by press time.
Hinn's remarks come as he nears the date of his remarriage to Suzanne Hinn, who in 2010 had filed for divorce from the prosperity faith-healing preacher.
"You wake up to the fact that you need your wife, and she wakes up to the fact that she needs her husband," said Benny Hinn on an episode of "The 700 Club."
"I have always loved this girl and she has always loved me. We never broke the covenant. Our marriage has been restored. We just want to make sure that we don't repeat the same mistakes."
The remarriage is scheduled to take place on Friday, Oct. 26 at the Calvary Assembly in Orlando, Fla. – the very church that Suzanne Hinn's father served as senior pastor. Jack Hayford, a Pentecostal minister who is chancellor of King's University in Los Angeles and leader of Jack Hayford ministries, will oversee the ceremony.
Benny Hinn - Why It's Important to Pray