Biden launches commission to look into packing Supreme Court
Presiden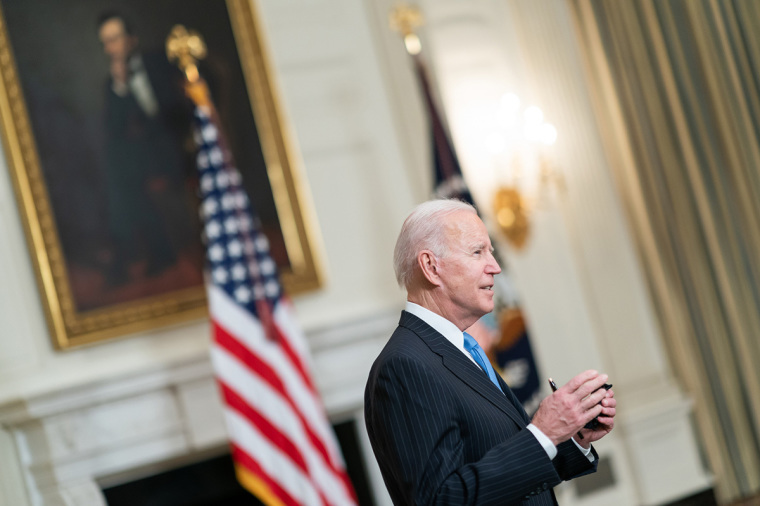 President Biden has created a 180-day commission to consider adding seats to the U.S. Supreme Court or setting term limits for justices, a move that some have warned could lead to "irreversible damage."
"The president acted under pressure from activists pushing for more seats to alter the ideological balance of the court after President Donald J. Trump appointed three justices, including one to a seat that Republicans had blocked his predecessor, Barack Obama, from filling for almost a year," The New York Times reported.
The purpose of the Presidential Commission on the Supreme Court "is to provide an analysis of the principal arguments in the contemporary public debate for and against Supreme Court reform, including an appraisal of the merits and legality of particular reform proposals," The White House said in a statement.
"The topics it will examine include the genesis of the reform debate; the Court's role in the Constitutional system; the length of service and turnover of justices on the Court; the membership and size of the Court; and the Court's case selection, rules, and practices," the statement added.
The co-chairs are Bob Bauer, Barack Obama's former White House counsel, and Cristina Rodriguez, a former official in the Obama Justice Department, The Wall Street Journal noted in an editorial.
The commission will have "an unwieldy 36 members, who tilt markedly to the political left," the editorial added. "Caroline Fredrickson is a former president of the American Constitution Society, the left-wing legal lobby. Michael Waldman runs the Brennan Center for Justice, the highly partisan legal shop at NYU that wants to restrict political speech. Laurence Tribe is the Harvard professor whose Twitter feed hasn't helped his reputation for judgment or reason."
While a few legal conservatives are part of the commission, they "will lend a bipartisan patina to a commission that by its very existence is meant to pressure the Supreme Court," it added. "The threat of court-packing is intended to make the Justices think twice about rulings that progressives dislike. Many of our legal friends think the threat has already had a notable impact on Chief Justice John Roberts on gun rights and abortion cases."
Earlier this week, Supreme Court Justice Stephen Breyer, a Democrat, warned during a speech at Harvard that packing the court will diminish "confidence in the courts, and in the rule of law itself." 
In 2019, Sen. Bernie Sanders, a Democrat, spoke against the idea of packing the Supreme Court. "My worry is that the next time the Republicans are in power they will do the same thing, I think that is not the ultimate solution," Reuters quoted him as saying.
A 2020 survey by The New York Times and Siena College showed that a majority of Americans oppose the idea of packing the Supreme Court.
Among likely voters, 58% said Democrats should not look to increase the size of the Supreme Court, while only 31% said they were in favor of it, Fox News reported that the time.
Mike Davis, founder and president of the Article III Project, called Biden's move "alarming," saying it must "be met with the harshest of denunciations from both sides of the aisle" as it could lead to "irreversible damage."
"Packing the Supreme Court would destroy centuries of hard work from Democrat- and Republican-appointed justices to insulate the high court from partisan politics," The Daily Wire quoted Davis as saying. "It also raises serious red flags as to what unconstitutional actions President Biden is planning that a more favorable Supreme Court might tolerate."