Bishop Heather Cook Confesses Alcohol Problem Despite Episcopal Church Saying She Didn't Have One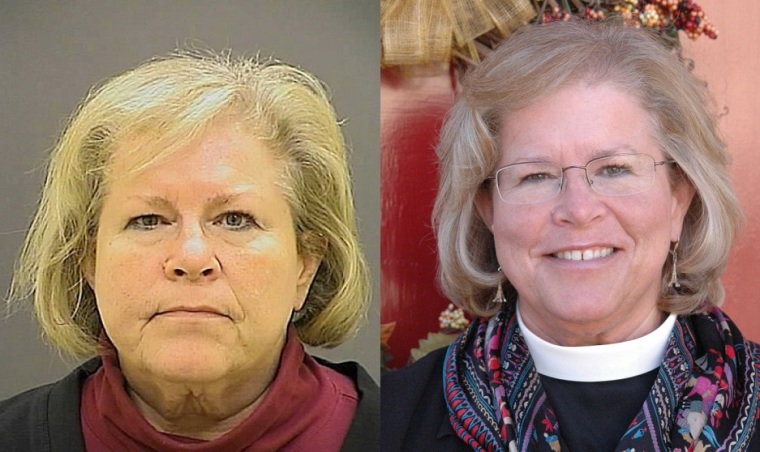 Jailed Episcopal Bishop of Maryland, Heather Cook, confessed in court Monday that she has an alcohol problem, and one of her lawyers has revealed that she's "suffering a great deal right now" after being charged with the drunk driving death of married father of two, Thomas Palermo.
"She does admit to an alcohol problem," Cook's defense lawyer, Jose A. Molina, revealed at Cook's bail hearing Monday, according to the Baltimore Brew.
The confession comes just weeks after church officials claimed that their investigation into Cook's background, which revealed a 2010 DUI conviction in which Cook was so drunk she couldn't complete a sobriety test, was just "one mistake." Church officials also said Cook didn't have a problem with the bottle prior to her elevation to the second-highest ranking position in the Diocese of Maryland last spring.
"As part of the search process, Bishop Cook fully disclosed the 2010 DUI for which charges were filed resulting in a 'probation before judgment.' After extensive discussion and discernment about the incident, and after further investigation, including extensive background check and psychological investigation, it was determined that this one mistake should not bar her for consideration as a leader," noted the Diocese of Maryland in a statement on Dec. 30, just days after the Dec. 27 crash that claimed Palermo's life.
The Christian Post reached out to both the Episcopal Diocese of Maryland and the church's headquarters in New York to reconcile the findings with Cook's confession and determine the exact nature of the background checks and psychological investigation Tuesday, but calls were not returned by the time this story was published. Information from Cook's attorney on when her struggles with alcohol began were also not readily available.
Cook was charged with multiple crimes last Friday, including driving under the influence, causing an accident due to texting while driving, and leaving the scene of the crash that took the life of Palermo, 41, in the Dec. 27 incident. She faces more than 20 years in prison and some $20,000 in fines if she's convicted.
The bishop has been in custody since she turned herself in to police last Friday because she cannot afford the $2.5 million bail penalty required by the court in full before she can be released.
Appearing in a pink jumpsuit via video from the Women's Detention Center in Baltimore, according to WBAL-TV, Cook could no longer deny her struggle with the bottle as her lawyers tried in futility to convince Judge Nicole Pastore Klein to reduce the $2.5 million.
"To me she represents a grave danger to the community," Klein said of Cook, according to the Baltimore Brew. "I cannot trust her judgement. ... She showed a reckless and careless indifference to life."
In an interview with CP on Tuesday, Molina explained that the legal team was hoping for a bit of mercy for the bishop, but accepts the judge's decision knowing the serious nature of the charges against his client.
"She is very sad and she is grieving very deeply. As you can imagine she is suffering a great deal right now," he said about Cook.
"We were hopeful without being unrealistic. These are very, very serious charges and reasonable minds can disagree about whether or not the bishop is a danger to the community. I believe that we offered to the court some very concrete and effective proposals which would go a long way toward protecting the public, specifically that she would remain in treatment, and she would surrender her license and she would not operate an automobile," continued Molina.
"I think those proposals would have satisfied the judge's concerns about the public but the judge disagreed. And, like I say, reasonable minds can disagree and I respect the judge's stance on that question. I just disagree with it," he added.
The case is scheduled for a preliminary hearing in early February when it will likely be moved to the circuit court; but it could be many months before Cook gets her day in court and until then she will be forced to stay in jail.
"There are a lot of cases in Baltimore City, there aren't enough judges, there are never enough jurors, there are never enough courtrooms. It could be 18 to 20 months [before Cook gets a trial date]," said Molina.