California Christian Baker Forced to Take Down Website After Refusing to Make Gay Wedding Cake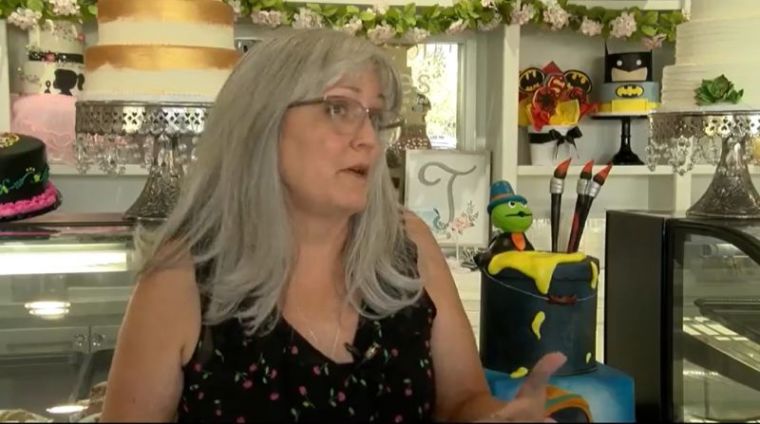 A California Christian baker who for years has been referring gay customers who want a wedding cake to a competitor due to her beliefs on marriage has been forced to take down her website and social media accounts after a "bombardment" of criticism.
"Here at Tastries, we love everyone my husband and I our Christians and we know that God created everyone and he created everyone equal so it's not that we don't like people of certain groups of people there is just certain things that violate my conscience," Tastries Bakery owner Cathy Miller said in a statement on Saturday, according to 23ABC News Bakersfield.
According to KGET TV 17, Eileen Del Rio claimed that she and her fiancee were discriminated against because they wanted a wedding cake testing, but were denied due to Miller's religious beliefs that marriage is solely a union between a man and a woman.
"A ceremony, when you're getting married is in the eyes of the Lord, okay, and that's a celebration of a union that God has brought together and that's a whole lot different then coming in and wanting a cookie," Miller explained.
Del Rio described the incident on Facebook, which has led to a flood of criticism and a "bombardment of negativity" against Miller — so much so that she says she had to take down the Tastries Bakery website and Facebook page.
The owner explained, however, that for five years she has been redirecting gay couples to Gimmee Some Sugar, one of her competitors, so they can receive the service they ask for.
"I'm really hurt by this. I don't think we should be picked on because of our beliefs," Miller said.
There have been several religious freedom vs. anti-discrimantion cases in America concerning Christian business owners, including cake makers, in recent years.
Jack Phillips, the owner of Masterpiece Cakeshop in Lakewood, Colorado, is set to go before the U.S. Supreme Court in his quest to overturn a 2014 Colorado Civil Rights Commission ruling that found him guilty of discrimination for refusing to make a cake for same-sex couple Dave Mullins and Charlie Craig in 2012.
Phillips recently appeared on "The View," explaining that while he serves everybody all the time, he does not make every cake for every event that's asked of him.
"It's a difficult thing to be in my position and know that somebody is requesting something that I can't in good conscience do," Phillips said on the June 29 show.
"I believe the Bible clearly teaches marriage is between one man and one woman," he added.
"I'm not judging these two gay men who came in. I'm just trying to preserve my right as an artist to decide which artistic endeavors I'm going to do and which ones I'm not."