Catholic Priest Vilified for Telling Followers to Drink 'Miracle' Water From Spring Virgin Mary Led Him To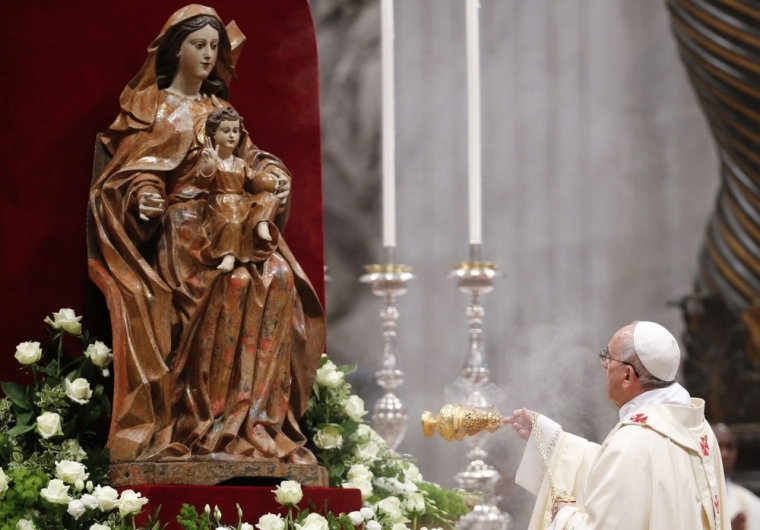 A Roman Catholic priest from Sicily is being vilified by church leaders after he allegedly told his followers to drink "sacred" water from a spring he claims the voice of the Virgin Mary told him about.
The Local, an English-language news source based in Italy, reported that Father Alessandro Minutella from the parish of San Giovanni Bosco in Carini, has been leading his congregation to pray at the miraculous water source, and has been distributing the water to people.
In an interview with Rai 1, Minutella insisted that the voice of the Virgin Mary led him to the spring.
"She doesn't speak to me or for me — but she speaks through me to everybody, inviting them to pray, confess and return to God," Minutella said.
"Today, people are sad and there is no serenity or peace. The water flowing is a symbol telling people of the need to purify their souls."
The claims have drawn criticism from some in the Catholic hierarchy, however, with the archbishop of Monreale, Michele Pennisi, calling Minutella's claims "misleading, manipulative and dangerous."
The archbishop has even banned Minutella from leading mass at the Piccola Nazareth center.
There have been a number of miraculous claims about the Virgin Mary coming from different corners of the world in the past year. Earlier in September, Christians from the western Ukrainian village of Beregovoy flocked to a window pane that is believed to show the figures of Mary and the baby Jesus.
The house where the window was based also "exudes a calm presence by spreading positive feelings," according to members of the community.
In July, Catholic parishioners at a church in Sydney, Australia, also claimed to be witnessing a miracle in which a painting of Mary is seen moving her lips during prayer time.
Members of Saint Charbel's Maronite Catholic Church in Punchbowl even captured and uploaded number of videos of the alleged miracle, in which the old Middle Eastern Catholic painting of the Virgin Mary, who is holding the baby Jesus, appears to move her lips as prayers are read at the church.
One member, Kirsten Keirouz, shared of witnessing the occurrence:
"Once I looked up, I had no idea what they wanted me to look at and I saw her [the Virgin Mary] mouth moving. I then asked my friend: 'Is it her mouth?' She replied 'yes.' and then I got the shivers throughout my whole body. I couldn't believe my eyes, I kept blinking in case I was seeing things."