Christian Mom Who Rejected Chemotherapy to Save Baby Dies Days After Daughter's Birth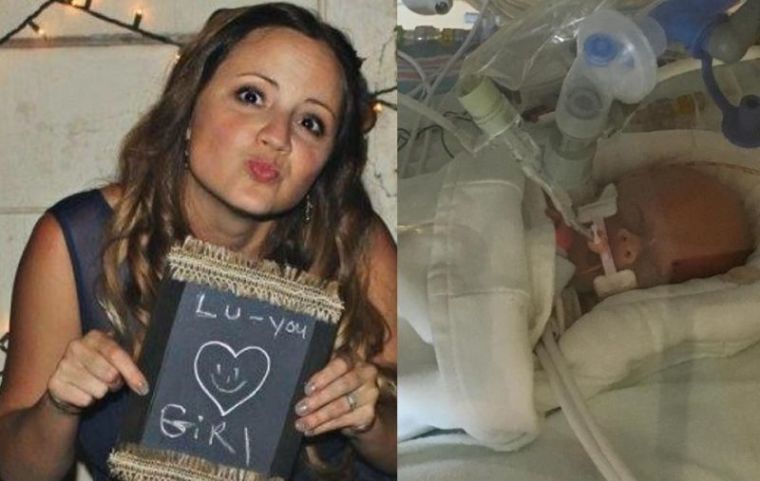 The mother, Carrie Lynn DeKlyen, died after telling her husband of 17 years, Nick DeKlyen, "I'll see you in Heaven," according to the Associated Press.
"We stayed by her until she took her last breath," Nick DeKlyen told AP. "It's in God's hands now."
"John 15:13 Greater love hath no man than this, that a man lay down his life for a friend. Carrie entered into the presence of our Lord early this morning. I can only imagine what she is experiencing now! Carrie, we love you and we will miss you, but your legacy will live on. You have touched so many lives and your love for Jesus was evident in the way you lived your life. Because of our faith we know we will see you again! We love you!" said Cure 4 Carrie a support page on Facebook run by Carrie's sister-in-law, Sonya Nelson.
Nick DeKlyen told PEOPLE in August that doctors told his wife that if she did not abort her baby she would die from her brain cancer. The mom of faith, however, refused.
"The doctor said if you don't terminate this baby, Carrie, you will die," Nick said. "But it was Carrie's decision and I said, 'What do you want to do?' She said, 'We're keeping it.'"
On Sept. 2, Carrie's health took a turn for the worse. Nelson, revealed on Cure 4 Carrie that the faithful mom had become "completely unresponsive."
"I just spoke with Nick and he wanted me to update. We have tried to share Carrie's story without being negative, but the bottom line is we need to share the reality of the situation. Carrie is not doing well. For the past few days she has been completely unresponsive, she is not even responding to pain. They tell us she can still hear us as hearing is the last to go. The baby is still holding her own. This Wednesday is a big day for Life," she wrote.
"She has been doing good, but she is very small. Meaning she was in the 3 percentile when her measurements were done last. The doctors need to see a change in that on Wednesday to feel that she is viable. Please please continue to pray for all of us as we navigate through this horrible situation. We want you to know that our faith is strong and no matter the outcome we will continue to praise the almighty God that we serve," she continued in the post.
Instead of chemotherapy, Carrie endured four major brain surgeries in an attempt to beat her cancer. She went into a coma after suffering a stroke in July.
"I don't know if she hears me, but I tell her I love her every day," Nick told PEOPLE after his wife gave birth while still in a coma last Thursday. "I say, 'I love you, Carrie, and I'm waiting for you to wake up and take you home.' I tell her that I'm staying by her side, and I'll never leave her. I want more than anything to bring her home."
Nick and his late wife who are from Wyoming, Michigan, were already parents to five other children ranging in age from 2 to 18 before she gave birth to Life Lynn.
Even though Life Lynn was born early at 24 weeks and five days into Carrie's pregnancy, and weighed just 1 pound, four ounces, Nick told AP that the baby was growing and "almost breathing on her own" at the University of Michigan Hospital in Ann Arbor.
"She's going to be fine," Nick said of the baby. "She's going to be here for 4 or 5 months, but we expect her to be a healthy baby. ... The doctor just said the timing (of the birth) couldn't have been more perfect."
A memorial service will be held for Carrie at 11 a.m. on Tuesday, Sept.12 in the Rez Center of Resurrection Life Church, 5100 Ivanrest SW, Grandville. Relatives and friends can meet Carrie's family Monday from 5:30-9 p.m. at the Cook Memorial Chapel (East Building), 4235 Prairie SW, Grandville.
A GoFundMe campaign seeking to raise $150,000 to assist with family expenses had raised almost $125,000 as of Monday afternoon.