Indian Christian Man Publicly Shamed by Hindu Extremists for Allegedly Converting Locals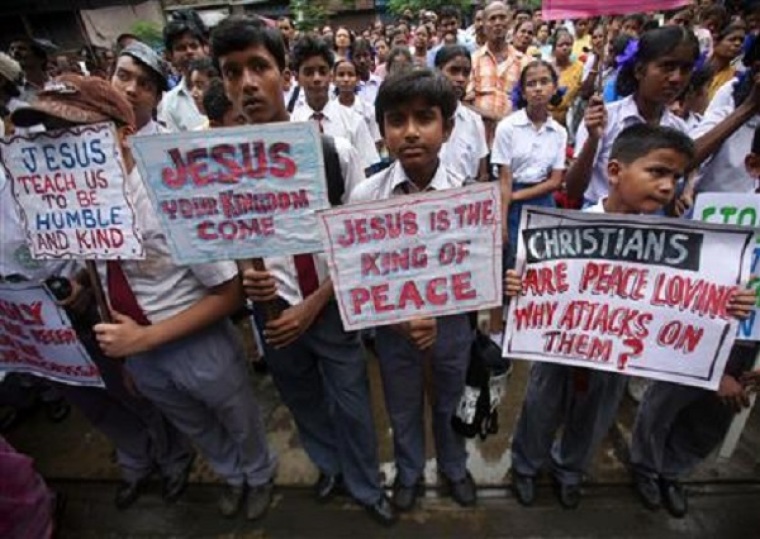 An extremist Hindu group recently humiliated a Christian man in Uttar Pradesh, India, after accusing him of converting Hindus to Christianity.
Police in Uttar Pradesh's Jalaun District are currently searching for several members of Bajrang Dal, an extremist group that kidnapped Awdhesh Kumar Savita, alleging that he tricked Hindus into converting faith.
After being kidnapped, Savita was blindfolded as militants shaved his head and paraded him around town on a donkey. 
The 35-year-old Christian man had been accused of luring local residents to a town meeting, then forcing them to eat beef and stomp on photos of Hindu gods as a way of converting them to Christianity.
Savita has denied the claims, telling local media outlets that he "has been practicing Christianity for the last few years. But I have never insisted on converting anybody."
Police were able to arrive at the village in time to save Savita from further humiliatation or harm, and authorities are now searching for the militants involved in the public shaming.
Nalin Kohli, leader of the Bharatiya Janata Party, has condemned the recent attack, distancing his political party from hardline militants, although the two groups have been linked in the past. 
"We need to ensure that we arrive at some kind of thinking as to how we can prevent these incidents," Kohli told IBN Live.
"With regard to the police, they need to take the strongest possible action and the guilty whoever it is, has to be punished for such barbaric crimes. We all have to be sensitive about our religious practices, our faith and not do anything which causes hurt to anyone. At the same time, no one can be justified to take law into their own hands," Kohli added.
Savita's wife, Rekha, has told local media outlets that the hardline Hindu group had fabricated its conversion accusations, suggesting that her family was being targeted for taking their 7-year-old son to a Christian hospital instead of a Hindu hospital.
Manoj Kumar, the police chief of the nearby Orai police station, told UCA News that allegations of Savita's forced conversion practices are untrue.
"The complaint is not valid as preliminary investigation has proved that Awadesh Savita was not involved in conversion activities," Kumar said, adding that "More arrests will follow in the coming days."
The International Christian Concern [ICC] watchdog group has warned that Bajrang Dal and its umbrella group, the Sangh Parivar political party, have been seeking to cleanse India of Christians for the past few years. 
ICC pointed to one particularly alarming incident in 2014 when members of the Bajrang Dal group stormed a church in Sahakarinagar village and began beating its pastor and congregants during a Bible study.
These extremist Hindu groups are similar to the Islamic State terror group, the ICC said in a 2014 press release.
"Like Christians facing ISIS in Iraq, millions of Christians across India are facing persecution at the hands of radical Hindu nationalist groups," the press release said, as reported by The Christian Post. 
"Without drastic change, this difficult situation will likely only get worse, as radical Hindu nationalist groups popping up across India have been given almost complete impunity under the new Hindu nationalist government led by [Bharatiya Janata Party]  and [Prime Minister] Narendra Modi," the statement added.