Church Gets Backlash for Sign Suggesting Roy Moore Is Being Falsely Accused Like Jesus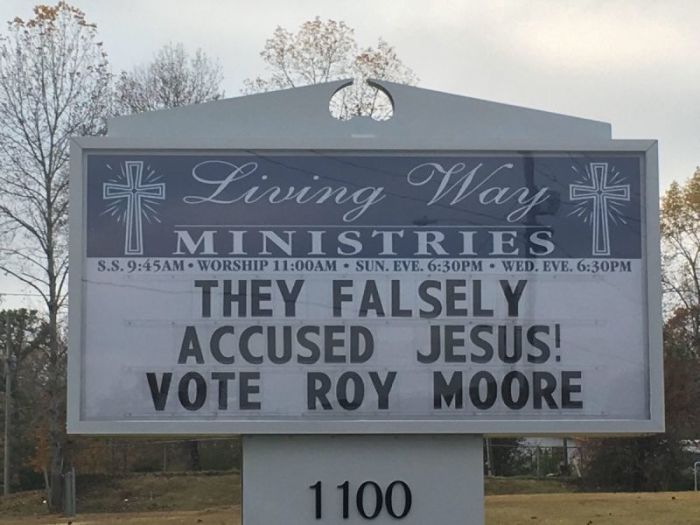 An Alabama church that compared embattled Republican Senate candidate Roy Moore to Jesus because it believes he is being falsely accused of sexually assaulting underage girls has come under fire for urging people to vote for Moore.
An unidentified church representative told WHNT that its phone "has been ringing off the hook from protesters and even those with threatening messages."
The church sign stated: "They falsely accused Jesus! Vote Roy Moore."
Several critics like Donna Moore Garland also skewered the church on its Facebook page and accused them of blasphemy.
"Shame on you! Shame on you! Shame on you! Comparing our Lord and Savior to the likes of Roy Moore is beyond contempt. It's BLASPHEMY!" Garland wrote.
"To compare Jesus to any man would be Blasphemy. To compare Jesus to an accused child predator.....there are simply no words. My lost friends are pointing to your sign as proof that Christianity is fake. Congratulations. You just became a stumbling block," she added.
The Christian Post reached out to the church for comment on Tuesday but received no response.
The church, the representative told WHNT, has since removed the sign and noted that their pastor had nothing to do with the message. It was explained that a number of individuals have access to keys to the sign and one of them, who was not identified, posted the message. The pastor asked for the message to be removed two days after it was first posted.
Many of the church's critics are now questioning its ability to still get tax exemptions since it endorsed a candidate.
Moore is set to face off with Democrat Doug Jones in a Dec. 12 special election to fill the Senate post once held by Attorney General Jeff Sessions.
Looming over his campaign are allegations from several women, including Alabama resident Beverly Young Nelson, who say he sexually pursued them as teenagers. Nelson said at a press conference in New York City with celebrity attorney Gloria Allred that during an encounter with Moore when she was just 16, she thought Moore was "going to rape me."
Leigh Corfman, another accuser, also alleged in a Washington Post report that she was 14 years old in early 1979 when Moore kissed her inside a courthouse. He later allegedly took off her shirt and pants and removed his clothes in another encounter. She said he touched her over her bra and underpants and guided her hand to touch him over his underwear.
On Monday, President Donald Trump strongly endorsed Moore.
"Democrats refusal to give even one vote for massive Tax Cuts is why we need Republican Roy Moore to win in Alabama," Trump posted on Twitter on Monday, before endorsing Moore formally in a telephone call. "We need his vote on stopping crime, illegal immigration, Border Wall, Military, Pro Life, V.A., Judges 2nd Amendment and more."
In an op-ed on his website, the Rev. Dwight McKissic of Cornerstone Baptist Church in Arlington, Texas, said if Alabama voters elect Moore they are turning their backs on their teenage daughters.
"The probability that all nine ladies are lying is highly unlikely. The 14 year old told a couple of people about the sexual assault back at the time it happened. That lends credibility to her allegation. If the Alabama voters elect Judge Roy Moore, the message that they are sending to teenage girls is, if an older man denies an accusation, his word automatically trumps theirs and that's tragic," McKissic wrote.
"For the sake of our teenage daughters, Alabama please don't disregard, discount and devalue the personhood and the voices of our daughters. The male and female voice should weigh equally in any matter. But with Judge Moore refusing to answer any and all questions related to this matter, we simply can't get his account on record. Therefore, Alabama voters, you should give the benefit of the doubt to the female. History will judge you harshly if your vote is nine ladies corroborated lies on Judge Moore beginning 35 years ago. Unbelievable Alabama and you know it. Now show it," he ended.