Anglican, Orthodox Leaders Urge World's Christians to Fight Climate Change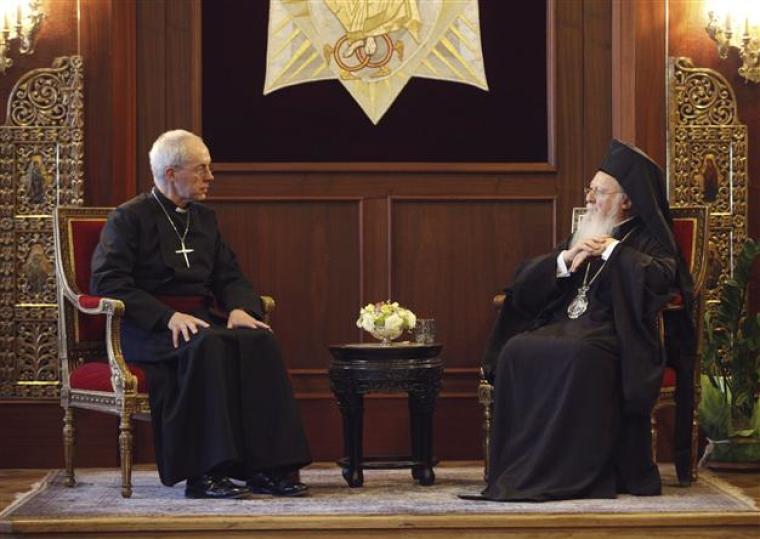 Anglican leader the Most Rev. Justin Welby and Orthodox Patriarch of Constantinople, Bartholomew I, joined together in a speech urging the world's Christians to lead the fight against climate change.
Bartholomew, the spiritual leader of close to 300 million Orthodox Christians, visited Welby at the Lambeth Palace in London this week, The Telegraph reported, and insisted that climate change is a "moral crisis."
Bartholomew called on Christians and people around the world to change their day-to-day behavior, instead of relying only on politicians making treaties concerning the environment.
Bartholomew, who has spent 24 years working on environmental issues, told an audience of bishops, faith leaders, and MPs, that the "world is overwhelmed by an unprecedented human crisis."
"The choice is ours, our world is in deep crisis," he continued, according to Premier.
The Orthodox leader added that too often the church has only reacted to such matters, rather than leading the way for humanity, and said that "never in history have human beings had so much opportunity to make such positive change."
He insisted that "polluting creation is a sin," and said that the issue of the environment concerns every race, religion, culture and doctrine.
The two Christian leaders agreed that science alone is not enough to stop climate change, as there needs to be a collective human awakening.
"It is a crisis about and within the human heart," the Orthodox Patriarch said.
"The solution to the ecological problem is not only a matter of science, technology and politics but also, and perhaps primarily, a matter of radical change of mind … a new ethos."
The meeting looked ahead of the major U.N. Climate Change Conference in Paris, which is to take place Nov. 30-Dec. 11, and discuss new ways of tackling climate change.
Roman Catholic and Evangelical leaders have also insisted that Christians have a moral obligation to fight the harmful effect to the environment.
Last week, Catholic bishops from around the world signed a joint appeal to government leaders urging them to agree on a "transformational climate agreement," and warned of a pending "disaster" unless actions are taken.
The bishops called for "courageous and imaginative political leadership" and for legal frameworks that "clearly establish boundaries and ensure the protection of the ecosystem."
Back in June, another 100 Evangelical and American Catholic leaders called climate change a pro-life issue, urging Christians to stand up for God's creation.
"As citizens of the most powerful nation in human history, we have a unique responsibility to promote sustainable development, reduce our dependence on fossil fuels and build a thriving culture of life that protects human dignity," the Christian leaders said in a statement.
They noted that toxins and chemicals released into rivers and oceans pose grave risks to pregnant mothers, and also harm young children and elderly people.
"We urge elected officials to reflect on the pope's words and recognize that climate change, poverty and extreme inequality — interconnected issues that can't be understood in isolation — are defining challenges of our day," the statement continued.
"In a spirit of solidarity, we encourage presidential candidates, members of Congress and governors who have raised doubts about the seriousness of climate change to consider the moral dimensions of this issue."