Ebola Outbreak Passes 5,000 Death Mark in West Africa; Separate Outbreak in DR Congo Nears 50 Victims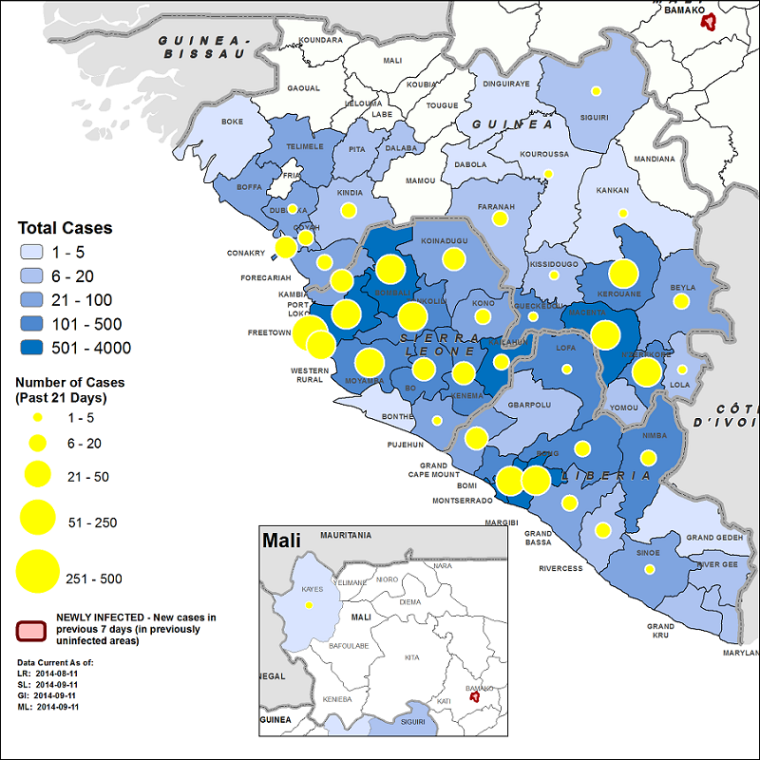 The World Health Organization announced on Wednesday that in West Africa, more than 5,160 people have died from the largest Ebola outbreak in history, with a total of 14,098 reported cases. A separate Ebola outbreak in the Democratic Republic of Congo has meanwhile killed 49 people.
"There is some evidence that case incidence is no longer increasing nationally in Guinea and Liberia, but steep increases persist in Sierra Leone," the health agency said.
"A mixed picture emerges at the district level. Transmission is consistently high in Conakry and Macenta in Guinea; Montserrado in Liberia; and in the western and northern areas of Sierra Leone. Declines in incidence continue in Lofa in Liberia; and Kenema and Kailahun in Sierra Leone. Cases and deaths continue to be under-reported in this outbreak."
Breaking down the specific numbers for the three most affected West African countries, the report said that 2,836 deaths had been recorded in Liberia, out of a total of 6,822 cases. In Sierra Leone, 1,169 deaths were reported from 5,368 cases; while In Guinea, 1,142 people have died out of 1,878 cases.
The separate Ebola outbreak in DR Congo has recorded 66 infection cases, which have led to 49 deaths. WHO stressed that the outbreak in the country is unrelated to the one that has affected West Africa.
Another four probable cases and four deaths have been reported in Mali. Other African nations like Nigeria and Senegal, which have also reported Ebola cases, were recently declared free from the disease.
Several medical organizations, including the U.S. Centers for Disease Control and Prevention, have warned, however, that the real toll of those affected by Ebola could be two to four times higher than what has been reported.
The CDC said in its own update on Wednesday that all Ebola patients in the U.S. have been discharged from hospitals.
The U.S. has been one of the leading countries providing relief to West Africa as it continues its fight against the deadly disease. Last week, President Barack Obama asked congress for $6.18 billion in emergency funding to combat Ebola both abroad and at home.
"The funding is needed immediately to strengthen and sustain our whole-of-government response to strengthen preparedness in the U.S. and to help end the Ebola epidemic at its source in West Africa, and to prevent disease outbreaks, detect them early, and swiftly respond before they become epidemics that threaten the American people," the White House explained about the requested funds.
"It's in situations like this one, when activities surpass the current level of funding, that the request is deemed an emergency."