Evangelicals, Church of Scotland Call on Scots to Unite as God's Family After Divisive Vote to Stay in UK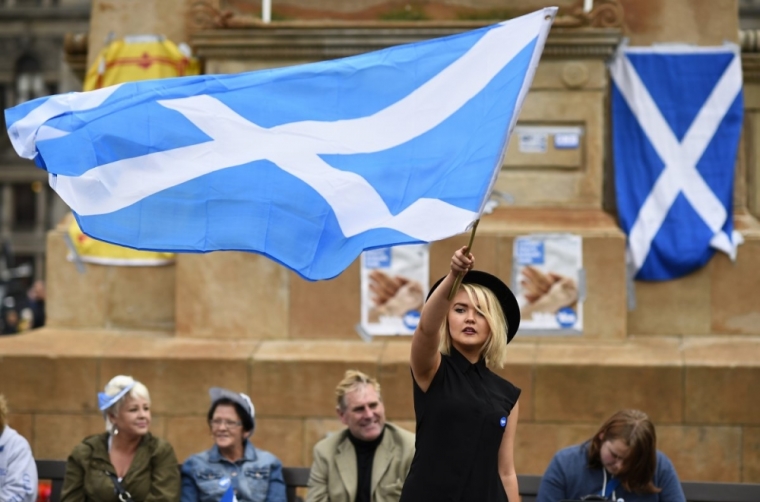 The Evangelical Alliance of Scotland and the Church of Scotland are calling on the nation to build up the country with Christian values, as the path toward reconciliation began following the historic vote that went against independence from the U.K.
"During this campaign all Scots have rallied around a flag. But as Christians our identity is not based on a flag or a national boundary but on the radical grace of being adopted into God's family," Scottish National Director Fred Drummond said in a statement.
"Scotland and the U.K. will not be the same after this vote. We, the Evangelical Alliance and our member churches, stand ready to play our part," he continued.
"We urge Christians in Scotland, England, Northern Ireland and Wales to come together to pray for Scotland as we build a future for our nation."
On Thursday, Scottish people decided by a 55 to 45 percent vote to remain part of the U.K., rejecting the independence campaign that had gained significant ground in recent years.
While the vote was praised by U.K. Prime Minister David Cameron, Scotland First Minister Alex Salmond decided to stand down from his position, but said that he will respect the results.
The Church of Scotland, which had remained neutral during the campaign, welcomed political figures from both sides of the debate in Edinburgh for a special service on Sunday.
Rt. Rev. John Chalmers, the moderator of the General Assembly, said during the sermon "the Church here and in congregations across the country is playing its part in making it a little easier to stretch out that hand of friendship to those who are our fellow Scots who did not support the side we supported."
He also emphasized that how people voted last week does not have to define who they are.
"How we work together to put in place the democratic will of the Scottish people will be defining, both for us as individuals and for us as we work to redefine our place within the United Kingdom,'' Chalmers continued.
The Church of Scotland has continuously called for reconciliation, and urged Scotland to work with its neighbors of England, Wales and Northern Ireland.
Drummond added that Scotland has undergone "an incredible season" and that the referendum debate "has invigorated Scotland with our churches at the heart of the debate."
"With the votes now cast and the result declared the people of Scotland have spoken, it is now time for us to unite as a nation and build a new and better Scotland based on the vision, hope and aspiration which characterized the debate," he asserted.
The Evangelical Alliance National Director noted that many in Scotland are still celebrating while others are devastated at the results, but urged people to "show grace and kindness to those on the other side" and move to bring reconciliation.
"I know it will be a difficult thing for some people to do but we must love our neighbor. We are all Scots and Scots at heart together. If we put God's love at the heart of what we do, healing will be much faster, genuine and long-lasting," Drummond said.
"Our evangelical churches are here to help. We are here to help heal divisions within families, workplaces, friendships and even in the church itself. The Christian Gospel provides the catalyst for reconciliation and as Christians we recognize our responsibility to model grace, forgiveness and reconciliation to our fellow citizens."